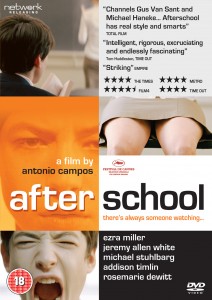 Although still only in his twenties, American director Antonio Campos has already been able to impress a lot of people with his work, with several short films under his belt as well as this full length feature Afterschool. Campos won the Cinefondation award at the Cannes Film Festival with his 2005 short film But It Now, and despite his young age is really making a mark on the world of cinema. Afterschool is Campos' first full length film and yet you wouldn't know it to watch it; Antonio Campos is an obviously talented director with a clear vision for what he wants to achieve with his work.
Robert is an awkward young student at a prep school in America; Robert finds it difficult to interact with others and spends much of his time watching violent and pornographic videos on the internet. Whilst filming around the school for an afterschool filmmaking class, Robert accidently catches on tape the drug induced deaths of two fellow students. Having witnessed their deaths, Robert is chosen to put together a memorial video for the girls and interviews a number of people about them, including fellow students, their parents, and the headmaster.
Antonio Campos captures Robert's awkward nature perfectly with Afterschool, with actor Ezra Miller really able to play the part of Robert well. Robert is an incredibly creepy character, and through his camerawork here Antonio Campos really brings the key protagonist to life. The quality of acting from Ezra Miller is top class, and this combined with the supreme direction of Antonio Campos really does provide for a hugely impressive film.
Campos has plenty to be proud of with Afterschool, and given the quality of this film he is without doubt a director to watch out for in the future. Antonio Campos is unashamed of his influences, is clearly clued up when it comes to filmmaking, and belies his relative inexperience here with a very impressively put together drama. Antonio Campos may not be a name that you've come across in the past, looking to the future though and there's surely plenty more to come from this highly skilled New York filmmaker.