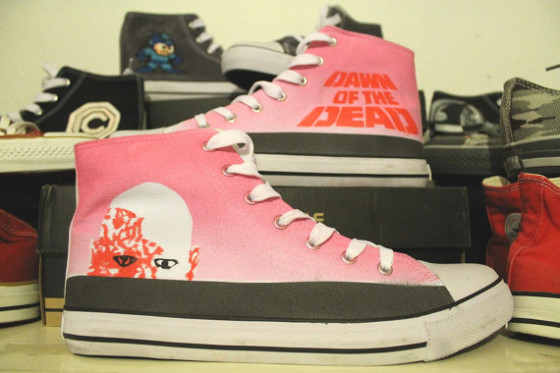 Dawn of the Dead is, without doubt, one of my very favourite horror films of all time, so when I discovered that there's someone out there offering custom painted Dawn of the Dead Converse All Stars, this definitely made me very happy.
The seller of these customised Converse is based in the UK in Cambridge, and these incredibly awesome trainers are available at a price of £80 including postage and packing for those in the UK, or £90 including postage for those of you out there that live elsewhere. These trainers are made to order, so whatever size you happen to be, this seller will be able to make sure you get the right Converse All Stars for you.
The Dawn of the Dead poster is an absolutely iconic image for this incredible 1978 zombie horror film, and the fact you can now show your love for the film with these equally awesome Converse All Stars really is brilliant.
The Dawn of the Dead Converse Chuck Taylor All Stars can be ordered now from Etsy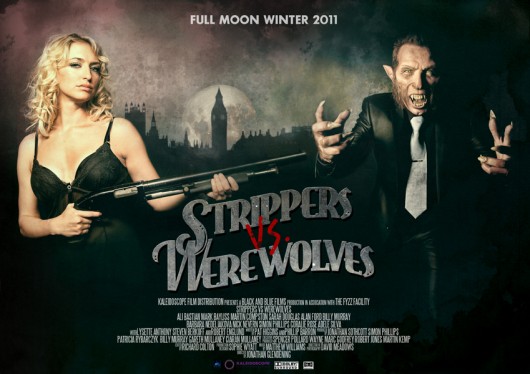 After a five week shoot in Croydon, Strippers Vs Werewolves is now all finished and awaiting its winter release.
Here is the latest poster for the film, featuring former Hollyoaks and The Bill actress Ali Bastian, and Spandau Ballet star and former Eastenders actor Martin Kemp.
Strippers Vs Werewolves has an all-star cast including Adele Silva, Billy Murray, Barbara Nedeljekova, Ali Bastian, Lucy Pinder, Martin Compston, Robert Englund, Sarah Douglas and Alan Ford.

Anything that has Seth Rogen in it pretty much has me instantly sold, so when I found out about 50/50 I was most definitely extremely excited to see what the film had to offer. This trailer gives us a pretty good idea about what we can expect from 50/50, and I for one am definitely excited about seeing this film when it's released later this year.
Hollywood horror icon Robert Englund is starring in his first British feature film as a sinister werewolf pack leader, in indie comedy 'Strippers Vs Werewolves', which begins filming on Monday 16 May in locations around London.
The film also stars Adele Silva, Barbara Nedeljakova, Ali Bastian, Coralie Rose, Billy Murray, Alan Ford, Sarah Douglas and Nick Nevern, and is being directed by Jonathan Glendening.
Jonathan Sothcott and Simon Phillips are producing the film, and Sothcott had the following to say about Englund appearing in the film:
Robert is the ultimate horror movie star – and we are honoured to have him on board and proud of ourselves for being the first British producers to secure him for a movie here. Robert has a dignity and gravitas as an actor that lifts any film he's in. He's the cherry on our cake.
Phobia (also known as 4bia) is coming to DVD here in the UK on May 10th, and the trailer for this film of four connected horror tales is available to view now.
The film was actually originally released in Thailand back in 2008, and a sequel then followed in 2009; it's taken its time to arrive on DVD in the UK, Icon Home Entertainment is the company that has finally decided to bring it to these shores though and UK fans can finally be exposed to this four way delight.
Yongyoot Thongkongtoon's Happiness is up first, followed by Paween Purikitpanya's Tit For Tat, and then Shutter director Banjong Pisanthanakun's In The Middle. Finally it is then time for Parkpoom Wongpoom to finish things off with Last Flight, a fine short horror about a stewardess taking home the body of a deceased princess. There's a good variety on display here as Happiness is a completely dialogue free effort, Paween Purikitpanya demonstrates a Final Destination influence in Tit For Tat, and Banjong Pisanthanakun tries his hand at comedy horror with In The Middle.
Check out the trailer below for a first look at Phobia, and be sure to seek out the DVD when it's released on May 10th.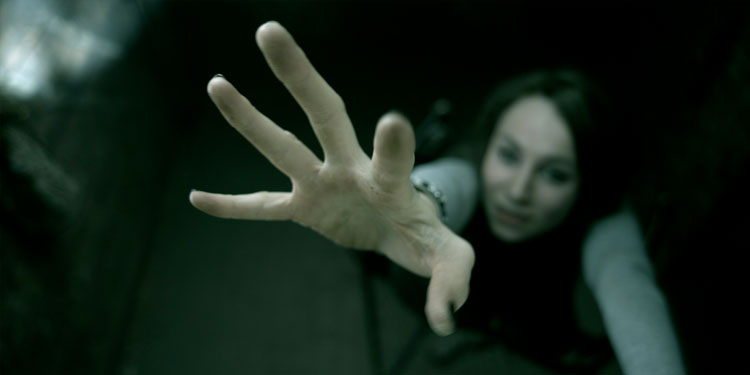 UK horror film Splintered is to feature in Coronation Street on Friday, with characters Sian and Sophie all set to watch the film with their on-screen boyfriends Ryan and Lee.
Splintered director Simeon Halligan had the following to say on the film's inclusion in the long running British soap: "I'm really chuffed Splintered plays a key role in Friday's episode of Coronation Street. And of course, having worked at Granada TV for many years myself – and actually on Corrie itself back in the 90s it seems fitting the movie gets a nod here before its UK release in July!"
Splintered is a psychological horror focused on the troubled central character of Sophie (Holly Weston). Splintered is the debut feature film from the Manchester-based production company Not A Number, the company responsible for the Grimm Up North horror festival.
The Twilight series is now entering its second half as we prepare for the release of the third film in the series, Eclipse. Edward Cullen (Robert Pattinson) has returned to Bella Swan's (Kristen Stewart) side, the evil Victoria is out to get her though and it's therefore up to Edward Cullen and Jacob Black (Taylor Lautner) to try and keep her from coming to any harm.
Twilight has its fans, but it also has its fair share of haters; if you're one of those that loves the books and films then you'll definitely be wanting to watch this Eclipse trailer.
Eclipse will not be released until July 9th 2010 here in the UK, the trailer however is available to watch below:
Directed by Lawrence Gough, Brit horror film Salvage is due for cinematic release on March 19th, with the DVD then due out on March 22nd.
Classed as "a seriously shocking chiller for our times" by Frightfest's Alan Jones, Salvage is a film that fans of fine British horror should definitely seek to see, and if you're interested in getting an idea of the film the take a look at the trailer below:
Despite speculation that Wes Craven was definitely onboard to direct Scream 4, Wes Craven has brought an end to the rumour by stating the following on Twitter; "SCREAM 4 – LA Times has it wrong. I'm still in talks but nothing has been finalized."
Hopefully soon there will indeed be confirmation that Wes Craven has signed on to direct the fourth film in the franchise, for the time being though the hugely popular horror director remains unattached.
Peter Stebbings' Defendor is due for North American release on February 26th and looks to be a very funny film. Sony Pictures Worldwide Acquisitions Group actually decided not to release the film theatrically in the US so Darius Films stepped in to do so (the producers of the film), providing Defendor with a limited US theatrical release.
No official UK release date has been set, hopefully though the film will at some point make its way to cinemas in the UK.
Here is the official trailer for the film: