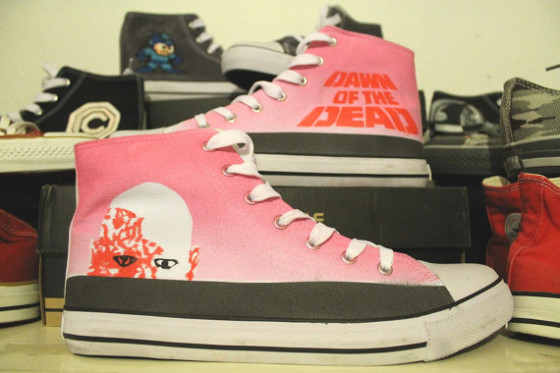 Dawn of the Dead is, without doubt, one of my very favourite horror films of all time, so when I discovered that there's someone out there offering custom painted Dawn of the Dead Converse All Stars, this definitely made me very happy.
The seller of these customised Converse is based in the UK in Cambridge, and these incredibly awesome trainers are available at a price of £80 including postage and packing for those in the UK, or £90 including postage for those of you out there that live elsewhere. These trainers are made to order, so whatever size you happen to be, this seller will be able to make sure you get the right Converse All Stars for you.
The Dawn of the Dead poster is an absolutely iconic image for this incredible 1978 zombie horror film, and the fact you can now show your love for the film with these equally awesome Converse All Stars really is brilliant.
The Dawn of the Dead Converse Chuck Taylor All Stars can be ordered now from Etsy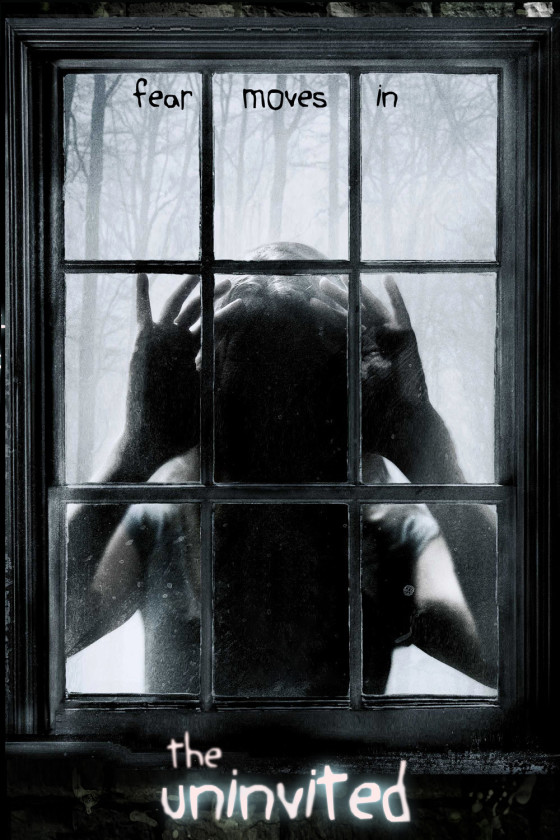 I went into watching The Uninvited without any real pre-existing knowledge of what I was letting myself in for; the name of the film seemed familiar, beyond that though I couldn't really recall much else about the film, and the only key detail I knew about the film was that it was a horror film. The film I'd say comes across as a mix of films like Ringu and The Grudge, combined with more contemporary films such as Paranormal Activity and Insidious. It's actually a remake of the South Korean horror film A Tale of Two Sisters, and this would therefore explain the Asian horror vibe of the film that you get here.
One of the key things that struck me about The Uninvited is the performance of Elizabeth Banks; she's really good as the creepy stepmother, and for me she provided the absolute stand out performance of the film. Unfortunately there was not really enough focus on her character for my liking, when she was called upon she was brilliant at all times however, and fulfilled her role perfectly in creating a sense of tension and suspense throughout the film. Elizabeth Banks was brilliant then, but beyond this I have very little that's particularly positive to say about The Uninvited. This film is incredibly clichéd and unoriginal, everything that takes place in the film has all been done before, and it's all been done a lot better in the past, too.
The Uninvited is one of those horror film's that comes complete with a twist; you think you know where you are with the film, and then it goes and 'shocks' you by turning that around, only, you know, it doesn't, because in horror film's these days it's actually probably more shocking when the film doesn't have a terrible twist. I think the film was probably actually better before it provided its big twist, I certainly enjoyed it a little more up until that point anyway, then they went and hit me with it, and I felt even more disappointed in the film than I'd anticipated. I'm guessing the original film that The Uninvited is based on had this twist, and so it's not really the fault of directorial duo Charles Guard and Thomas Guard that this element of the film is so completely awful, it did rather ruin any enjoyment that I'd taken from the script up until this point however, and left me more than a little disappointed in the direction that the film had taken.
Throughout the film there are some pretty great shots of the location, aesthetically the film is incredibly pleasing, in terms of actual content however the film fails to ever really deliver. There doesn't seem to be a strong sense of storyline here, the film just seems to meander along, and every so often we're thrown another ghost-child moment that we get all too often with these annoying Asian horror film remakes. Banks' character is great at building tension when she's around, all too often she's not however, and the film fails to really grab you or have you particularly caring about the events that are taking place onscreen. There's no great sense of structure here, and for that reason The Uninvited really seems to struggle.
The film managed to gross in excess of $41 million worldwide, and I really don'y know how it managed to do this. Sure, it has the star power of people like Elizabeth Banks, David Strathairn, and Emily Browning, it also happens to be a really bad film however, and surely word travels pretty fast in this day and age about just how truly awful a new film is?! Elizabeth Banks is really good in the film, she alone is not enough to save it however, and The Uninvited ultimately suffers from its disappointingly clichéd approach and failure to really provide any sort of a compelling viewing experience. I've seen worse, but The Uninvited really isn't a horror film that works, and definitely isn't a film that I'll be watching again in the future.
Rating

(1.5/5)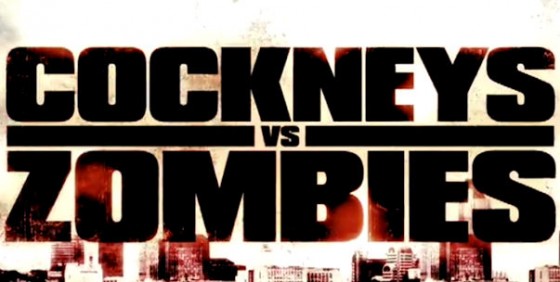 As a zombie loving film student living in East London,
Cockneys vs Zombies
is a film that really made me think 'This is a film that I'd absolutely love to have been involved in'. It's a low budget zombie horror film from London based filmmaker Matthias Hoene, and Hoene is clearly someone with a very good knowledge of horror and a keen eye for what works in the genre. With a large helping of humour, a number of absolutely beautiful shots, and an incredibly badass war veteran played by Alan Ford,
Cockneys vs Zombies
really does have a lot going for it, and it's hard not to be impressed by this zombie flick set in the English capital.
Before watching the film I must say that I didn't have particularly high expectations; I've watched a lot of low budget horror films in my time, many of which have failed to impress and long been forgotten. Cockneys vs Zombies perhaps had a harder job to do with me than most, it's set in the area that I currently live after all, an area in which I've filmed a few short films myself, and an area in which I intend to stay for the foreseeable future. I didn't want the film to let my current area down, and Matthias Hoene most certainly succeeded in making me feel proud to be a budding filmmaker in East London.
Michelle Ryan, formerly of Eastenders fame, is one of the film's key stars here, I also spotted Gary Beadle making a brief cameo, and there are a few others involved in the film as well with Eastenders/East London connections. There are thankfully no Dick Van Dyke style cockney accents present here, the key cockney's all seem to be pretty well cast and the film definitely delivers in this area. As I mentioned before, Alan Ford's character is particularly brilliant in the film, and for me this was one of the most standout elements of Cockneys vs Zombies. With a low budget comedy horror film such as this, there is much emphasis on the quality of the script and the quality of the acting in order to make it work, and in my eyes Matthias Hoene has certainly succeeded here in making sure that all elements of the film are strong enough to make it work and make it work well.
Cockneys vs Zombies is a tasty little mashup of comedy horror and action film conventions, combining nicely to form a 90 minute feature film of fun that will no doubt please fans of British horror films. There's enough here to keep you entertained for the film's duration, and if you're looking for a bit of light entertainment on an evening then you can definitely do a lot worse than sitting down with Cockneys vs Zombies. There's enough gore here to please the pure horror fans, enough light-hearted humour to please the comedy fans, and a healthy helping of action thrown in there as well just for good measure.
Cockneys vs Zombies is a film that's well worth a watch, and it'll also be interesting to keep an eye out for director Matthias Hoene and screenwriter James Moran in the future to see what they come up with next. Moran appears to be involved in writing a new film for 2013, Silent Night of the Living Dead, so I'll certainly be checking that one out and seeing what that film has to offer; if Cockneys vs Zombies is anything to go by then I should surely be in for another British horror treat!
Rating

(4/5)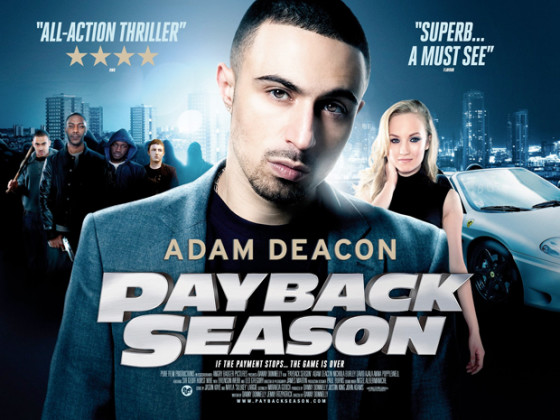 Payback Season
 is your typical Adam Deacon drama, offering a view of working class London and an aspiration for a life beyond the mundane, something that key protagonist Jerome has been able to achieve by becoming a professional footballer. Despite his having become a professional footballer however, his roots still weigh heavily upon him and his childhood gang connections threaten to hold him back in his quest for a better life for both himself and his mother and brother family unit.
Whilst Payback Season doesn't really offer anything particularly new, it does provide for a pretty enjoyable viewing experience, and there are also some decent acting performances on display here. There are a few faces here that you'll probably recognise, but also a few more that are clearly fairly inexperienced, yet do still stand out in a raw kind of way.
If you like Adam Deacon as an actor then you'll no doubt find some joy here, and whilst Payback Season is unlikely to become your favourite film of all time, it will provide a decent hour and a half of entertainment. The storyline is nothing new, the film itself is nothing exemplary, but if you're looking for a decent low budget British drama then you can definitely do a lot worse than watching Payback Season.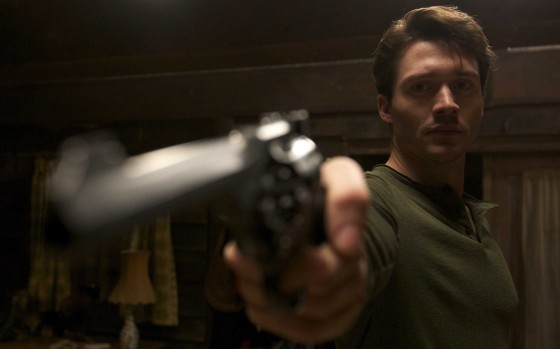 Truth or Dare is a British horror/thriller from director Robert Heath. Not familiar with either of Heath's previous two films, I came into this film unsure what to expect. The film has an estimated budget of £2,000,000, a relatively small amount in filmmaking terms, and given the budget that this film was made with; I'd say that Robert Heath has done a pretty good job here.
Whilst this probably isn't the best film you'll ever see, or even the best film you'll see this year, there's something very watchable about Truth or Dare and I found that the film's 91 minutes elapsed very quickly. The characters aren't remotely likeable and you therefore find yourself entirely emotionally detached from what happens to them; live or die you don't really mind, but this fact is perhaps as much of a blessing as it is a curse. Due to the nature of the film, it's kind of the idea that you don't really like these characters because the film wouldn't really work if they were likeable, however at the same time, because you don't like them it's therefore difficult to have a really strong feeling about the film I found. I found myself so detached from the film's protagonists that come the end of the film, even though I felt that the film hadn't dragged at all and time had in fact gone incredibly quickly, I didn't really have a strong feeling about the film either way, and the film failed to leave any real lasting impression.
There are certainly plot holes here, but if you start dissecting every little detail of the film then you begin to take all the fun and enjoyment out of it, if you just enjoy it for what it is however then you'll no doubt find that Truth or Dare is actually a pretty decent British film. The ending was poorly executed I felt, with the director perhaps seeking one final twist in the tail of the film that didn't quite work out, however all in all Truth or Dare is a pretty solid effort of a British horror/thriller. There are certain parts of the film where things are at times a little predictable; sometimes it's nice to be able to work out certain things as you go along however and it just makes the surprises that the film provides all the more pleasing to discover.
Truth or Dare is far from being the perfect British film; it has its plot holes, the ending is poor in my opinion, and if you like to be emotionally engaged with a film's protagonists then you're probably going to be left sorely disappointed here. For all of its downsides however this is still a very watchable film, and if you've got a spare hour and a half then there are certainly worse things you can do with your time than watch Truth or Dare.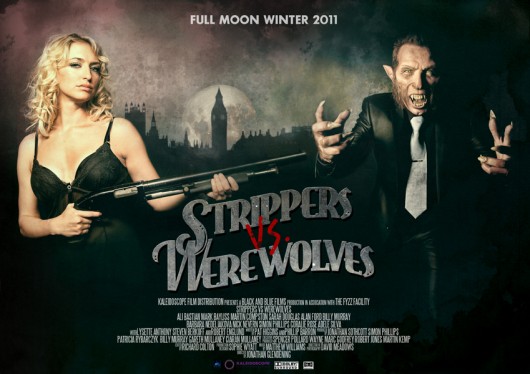 After a five week shoot in Croydon, Strippers Vs Werewolves is now all finished and awaiting its winter release.
Here is the latest poster for the film, featuring former Hollyoaks and The Bill actress Ali Bastian, and Spandau Ballet star and former Eastenders actor Martin Kemp.
Strippers Vs Werewolves has an all-star cast including Adele Silva, Billy Murray, Barbara Nedeljekova, Ali Bastian, Lucy Pinder, Martin Compston, Robert Englund, Sarah Douglas and Alan Ford.

Anything that has Seth Rogen in it pretty much has me instantly sold, so when I found out about 50/50 I was most definitely extremely excited to see what the film had to offer. This trailer gives us a pretty good idea about what we can expect from 50/50, and I for one am definitely excited about seeing this film when it's released later this year.
Hollywood horror icon Robert Englund is starring in his first British feature film as a sinister werewolf pack leader, in indie comedy 'Strippers Vs Werewolves', which begins filming on Monday 16 May in locations around London.
The film also stars Adele Silva, Barbara Nedeljakova, Ali Bastian, Coralie Rose, Billy Murray, Alan Ford, Sarah Douglas and Nick Nevern, and is being directed by Jonathan Glendening.
Jonathan Sothcott and Simon Phillips are producing the film, and Sothcott had the following to say about Englund appearing in the film:
Robert is the ultimate horror movie star – and we are honoured to have him on board and proud of ourselves for being the first British producers to secure him for a movie here. Robert has a dignity and gravitas as an actor that lifts any film he's in. He's the cherry on our cake.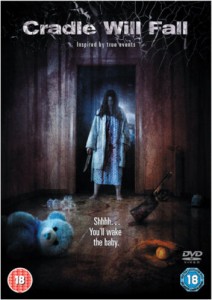 Short, sharp, and snappy; Cradle Will Fall is a horror film that many will no doubt enjoy. Directors Lars Jacobson and Amardeep Kaleka pack a lot into the film's 69 minute runtime, there are strong performances from both Colleen Porch and young star Ridge Canipe, and the film provides for a very entertaining overall viewing experience.
With a mother suffering from postnatal depression, we watch on as her mental state deteriorates and she struggles to handle the pressure of looking after four children. Her husband forced to work heavily to cover the bills, the mother feels that she has no one to turn to, ultimately snapping as it all becomes too much for her.
The build up is well presented on screen, the breakdown itself extremely well covered, and directors Lars Jacobson and Amardeep Kaleka have here made sure that they've put together a really rather unnerving horror film. Cradle Will Fall is a really powerful film, one that hits hard and sticks in your mind for long after you've finished watching it.
If you're sick of predictable horror then Cradle Will Fall may just be a film for you to check out; there's a great sense of realism here, and with Lars Jacobson and Amardeep Kaleka both making their feature length directorial debuts, this is most definitely an impressive effort from the inexperienced directorial duo. Many films will surely follow for these two directors and it'll also be interesting to track the progress of Ridge Canipe's career as he really does seem to be a hugely talented young actor.
For fans of the horror genre, Cradle Will Fall is a film that very much deserves to be added to your rental queue as watching this film at least once is most definitely highly recommended.
Phobia (also known as 4bia) is coming to DVD here in the UK on May 10th, and the trailer for this film of four connected horror tales is available to view now.
The film was actually originally released in Thailand back in 2008, and a sequel then followed in 2009; it's taken its time to arrive on DVD in the UK, Icon Home Entertainment is the company that has finally decided to bring it to these shores though and UK fans can finally be exposed to this four way delight.
Yongyoot Thongkongtoon's Happiness is up first, followed by Paween Purikitpanya's Tit For Tat, and then Shutter director Banjong Pisanthanakun's In The Middle. Finally it is then time for Parkpoom Wongpoom to finish things off with Last Flight, a fine short horror about a stewardess taking home the body of a deceased princess. There's a good variety on display here as Happiness is a completely dialogue free effort, Paween Purikitpanya demonstrates a Final Destination influence in Tit For Tat, and Banjong Pisanthanakun tries his hand at comedy horror with In The Middle.
Check out the trailer below for a first look at Phobia, and be sure to seek out the DVD when it's released on May 10th.