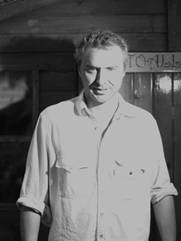 Q: Did you know from a young age that you wanted to be a director?
GJ: Yes, I did find an old diary recently from when I was 13, I wrote that when I grow up I want to be a film director, it was the only thing I had any excitement for or gravitated towards, although it took a lot of terrible jobs and dedication to get here though.
Q: Were you one of these people who would create shorts in their backyards etc?
GJ: No but I did have plenty of action figures and would create elaborate battles so I guess as I got older I just replaced the action figures with actors. I spent a lot of my youth watching films, I had tons and tons of videos and I would even edit out the adverts and label them neatly up. I was learning all the time, my own film school.
Q: Where did the idea for the movie come from? Were you inspired by other gritty horror movies or dramas?
GJ: It came from reading about Dennis Nilsen the London serial killer when I was a kid, I remember when he was arrested and it stayed with me, that image of him talking to dead bodies in his front room and having his favourites who he would dress up scared me. It was also based on my experiences around the east end and the characters I knew then. I did love Henry as well and thought we needed our own version, as we British are good at producing real serial killers, only the US has more infamous ones than us. It must be our respective countries shitty diets.
Q: Did the script take long to write?
GJ: Tony was originally a short film and I showed it to Paul Abbott (creator of Shameless) who became a bit of a mentor to me and he asked me if I wanted to turn it into a feature. I jumped at the chance and started to expand from the short. I deliberately wanted to make a character study and a film that summed up the London I knew. I originally made the short as a serious piece but this element of black humour started to seep through so for the feature I worked on that more. I don't think it would be as effective if it weren't so funny. But it's strange that having toured with the film in the US and all over Europe that the British humour does travel.
Q: How did you go about casting the movie?
GJ: I cast the film myself using a mix of actors I knew to people like Ricky Grover who was an old friend of the family to non actors I met on the streets. We then workshopped in a closed environment for about six months, it was important for me that the actors knew their characters inside out. A lot of the 'actors' were close to the characters they were playing, one guy went to prison shortly after we wrapped and I had to write a letter to his probation officer to try and get him a lighter sentence. Another sadly died of an overdose.
Q: Much has been made in the press about Peter Ferdinando's superb acting in this movie, did he stay in character on set and how did he approach the role?
GJ: Peter is my cousin and we made a bunch of shorts together before the feature. He did stay in character and scared all the crew with his strange behaviour. Although I think they also found him quite funny as well. He approached the role with maximum dedication, he did his own research and we would compare notes. He lost 2 stone to play Tony and afterwards he had to go to Thailand for a month to recover from the traumatic experience I put him through, he still has nightmares.
Q: Was it a hard to movie to get funding for?
GJ: It was very easy to get the funding for this film because we didn't need very much, Paul Abbott put in 20 grand himself and the UK Film Council matched it. They could see that I was willing to make a feature cheaply and it would look amazing. For a feature shot on film in 12 days all on location that is cheap believe me.
Q: The film has been recognised not only by horror media but more mainstream periodicals as a compelling, chilling and important movie. This must be rewarding but at the same time must put pressure on you to deliver the same sort of excitement for your next release?
GJ: It is rewarding but you have to keep things in perspective, its not like Tony was Slumdog Millionaire or anything, it had amazing reviews but was a small film really. I don't feel too much pressure but I know that the second film is very important; I'm just enjoying the process of making a bigger film. I think it's important to first and foremost make films for me, films that I myself would love and want to see, too many filmmaker's don't do it from the heart and it shows, that's what its all about.
Q: If you had a bigger budget would you change anything about it?
GJ: Lots of explosions and Christian Bale as Tony may have helped box office a bit. But seriously I wouldn't have changed anything. No need to.
Q: What's your take on the current British horror film scene?
GJ: Well there are a lot of directors pushing the boundaries, which can only be a good thing, and being a bit more experimental with things. I think we need to go back to making stuff that relies on mood as well though and not only on gruesome special effects; I'd love to do an M.R. James adaptation.
Q: What's your next project? Do you intend to carry on making "horror" films?
GJ: The next film is a cop thriller called Hyena about bent police and multicultural crime in London, I wouldn't call it a horror but it deals with characters in pain. I don't think Tony really should only be classified as Horror as it deals with social issues of unemployment and the class system in the UK. I'm interested in people rather than genres, so if I create a character they could turn up in any genre that suits them.
Q: What are your top 3 horror films of all time?
GJ: Texas Chainsaw Massacre: because it's a perfect example of a genre film. I saw this when I was very young and no matter how many times it's remade you couldn't better it, it's also interesting that Tobe Hopper never made anything as remotely good again.
Possession: the most art house horror film I've ever seen and I mean that as a good thing, it's amazing and loopy on so many levels and obviously inspired Antichrist.
Irreversible: I guess this isn't labelled as horror but what is it? It's certainly not romantic comedy! One of the few films that after seeing it I couldn't shake it from my mind. When I came out of the cinema I remember I had to walk it off and have a few beers afterwards to calm myself. But that's what films should do sometimes.
Q: In your opinion what is the all time best British horror film?
GJ: Hmmm, that's a toss up between Witchfinder General and Wicker Man. Although Peeping Tom has to be there as well as 10 Rillington Place. I can't decide so I'll take all four please.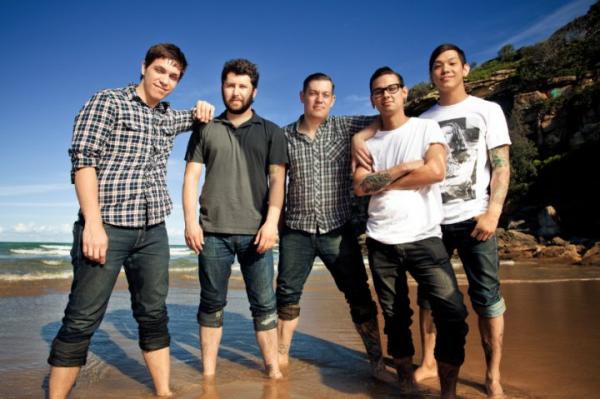 Continuing with our Hassle Records week we sent a few questions through to Fireworks, and guitarist Chris Mojan was the man that was kind enough to get back to us with his responses.
Massive thanks to Chris Mojan for providing us with this interview, and I'm sure you'll join us in wishing Fireworks good luck for the show at the Islington Academy with Four Year Strong and The Wonder Years this evening:
Alt-UK: You recently toured the U.S. with New Found Glory, Hellogoodbye, and Saves the Day, over the weekend you played the Relentless Stage at the Slam Dunk Festival, and you're now about to head off for a few dates in Germany/France with Four Year Strong and The Wonder Years; it's been a pretty special year for you so far, what's it been like to have played such high profile shows?
Chris Mojan: I'd definitely say this last year or so has taken a bit of adjusting. It took us awhile to get used to playing shows in these settings as opposed to the smaller diy shows we'd play on our own. With that said though, it's been incredible. It feels great to be playing to so many more people and sharing the stage with so many great friends, new and old.
Alt-UK: Did you get to see many other bands at Slam Dunk, and if so, which bands particularly stood out for you at the festival?
CM: With all of the running around and general insanity regarding festivals it was really hard to catch a lot of bands. The ones that stood out for me though were Moneen, Alkaline Trio, Crime In Stereo and The Wonder Years. Great bands.
Alt-UK: What would you say has been your favourite show to date since forming, and are there any bands that you particularly enjoy touring with?
CM: Hmm. Picking one show is difficult. I'd say the release show for AIHTOIMOC would be a good bet. It was a home show which meant all of our friends and families could be there, so many people came out and every band that played was incredible. Although playing shows in places like Sydney and Moscow is hard to top.
Alt-UK: If you could tour with any bands in the world, which would you most like to play alongside?
CM: I think I'd like to tour with She And Him so I can become friends with Zooey and her husband. Or perhaps Grinder, Darren McCarty of the Detroit Red Wings band…
Alt-UK: It was only in December that you came to the UK for the first time, how have you found that your music has been received in the UK and how does playing here compare to playing in America?
CM: Everything is so different here. I can honestly say kids seem to be way more into having a good time at shows here. It's also strange to go to clubs here and hear us and our friends bands being played. Way different culture. I wouldn't step foot in a club in the states.
Alt-UK: Having toured the UK a few times now as a support band, do you think that in the next year or so we'll be seeing you come back over here as the headline band?
CM: That's the plan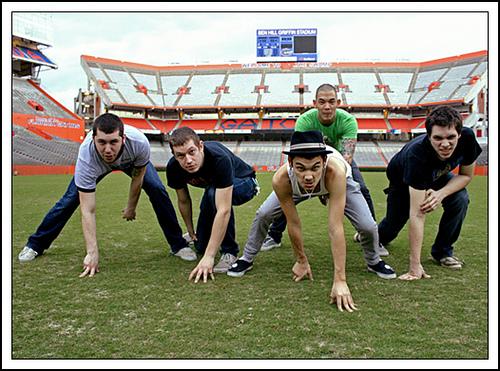 Alt-UK: Growing up in Detroit you were obviously fans of pop punk, what other genres would you say appeal to you most though, and which bands would you say have had the greatest influence on you?
CM: Indie rock, hardcore, punk rock whatever really. We tend to listen to it all. When we started we were really influenced by bands from the Toronto area like Boys Night Out and The Fullblast . Then of course obvious ones like Descendents and Jawbreaker. We never really set out to sound like any of them though.
Alt-UK: What albums have you been listening to on the tour bus lately, and are there any in particular that you'd like to recommend to our readers?
CM: Records I've been listening to lately.. The National-High Violet, Good Old War, Harms Way-No Gods, No Masters, there's a lot more, but I can't remember right now. I'd recommend all of them really.
Alt-UK: Not only have you toured with New Found Glory, but Chad Gilbert actually produced your 'All I Have to Offer is My Own Confusion' debut; what was it like working with him on the record?
CM: It was great. He is a great friend of ours, and had a lot to offer to the record.
Alt-UK: It must have been pretty cool releasing your debut through Triple Crown Records in the U.S., the label that Brand New released 'Your Favourite Weapon' and 'Deja Entendu' through, will you be sticking with them for album number two and when can we expect the follow-up to 'All I Have to Offer is My Own Confusion' to be released?
CM: Yes, they will be releasing the next full length, which will hopefully be out around the same time as AIHTO was released last time. So this March/April?
Alt-UK: You recorded your first promo video last year for 'Detroit', how did it feel to get your first video recorded and what did you think of the way that it turned out?
CM: It was probably the most exhausting, yet fun two days of my life. Our good friend Matt did the video as a big favor basically, we've grown up with him and he's went so far doing what he's doing, so we were most excited to work with him.
Alt-UK: Do you currently have any plans to get another promotional video recorded, and if you could record a video for any track from your album, which do you feel that you'd have the most fun with?
CM: We have no plans, but if we did another video I think we'd do 2923 Monroe St.
Alt-UK: 2010 has obviously been a pretty great year for you so far, what are your plans for the rest of the year though once you've finished the show in Stuttgart next week?
CM: We will be home writing for two months, then doing a two month headliner with some great bands in the States.
Alt-UK: Best of luck for the show at the Islington Academy this evening; is there anything else that you'd like to mention to our readers that we haven't already covered?
CM: Nope. You have covered it all. Thanks friend.

As a part of our Hassle Records Week we sent a few questions over to We Are The Ocean and the band was kind enough to get back to us within a few hours with their responses. We'd just like to say a massive thanks to We Are The Ocean, and without further ado here the interview is for you:
Alt-UK: You recently played the Slam Dunk Festival in Hatfield/Leeds, complete with Dan climbing a tree and hitting the pit (at the Hatfield show at least); what did you make of Slam Dunk this year and how did you feel that the shows went playing the festival for a third year running?
WATO: Slam Dunk was and always is awesome for us! We have such a great time because so many of our friends play so we always have great weekend hanging out and partying, and the shows themselves are always incredible because the kids that go are so into it and enthusiastic, they're a really nice crowd to play to!
This year was definitely no different, we had a blast. Hopefully we can make it 4 years running and play next year!
Alt-UK: In 2010 you've already toured with the likes of Underoath, Thrice, and Madina Lake; you've already played alongside some pretty big names but if you could tour with any band/s in the world, which would you most like to hit the road with?
WATO: I'd love to tour with Rise Against or Thursday. They're big influences for us and i think we'd be recieved really well amongst their crowd. And obviously they both play very big rooms which is also a massive bonus!
Thrice and Underoath both would have been in the answer to this question if you'd asked us 6 months ago. We feel so lucky to have tourwed with those 2 bands.
Alt-UK: Continuing on the subject of touring, what has been your favourite gig to date?
WATO: I can't really pin point one stand out gig but definitely ones of note are Download Festival last year, Bamboozle in the States last year, all 3 years at Slam Dunk, and probably every show on our headline tour last year.
Alt-UK: Which bands would you say have most influenced the We Are The Ocean sound?
WATO: Rise Against, Thrice, Underoath, Foo Fighters, Refused, Hot Water Music
Alt-UK: You released your debut album 'Cutting Out Teeth' back in February; how pleased were you with the way that the album turned out and is there anything that you feel you'll be doing differently for album number two?
WATO: We feel extremely positive with the turn out of Cutting Our Teeth, its been recieved really well and the feedback has been amazing. We're all super proud of it. The second album is going to be very different though! We've already demoed some tracks for it and it sounds a different band!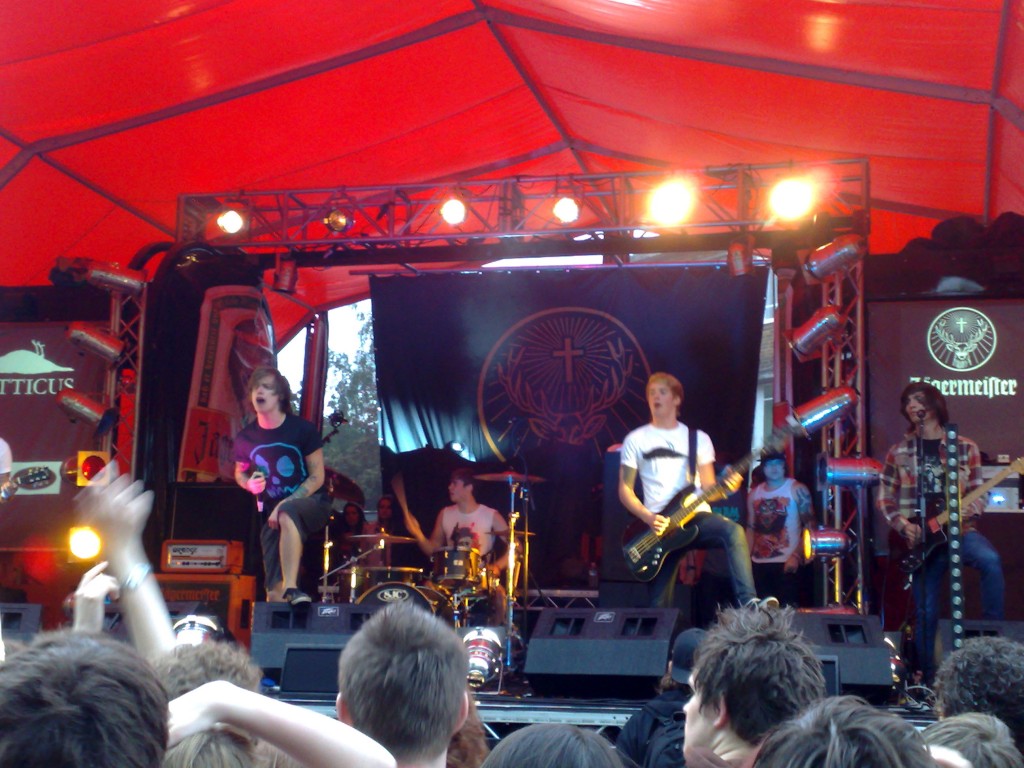 Alt-UK: Hassle Records is the label that released your 'Look Alive' EP last year and also your debut album this year; what was it that made you feel Hassle was the right label for you?
WATO: All the guys are so down to earth and you can tell that they really love the bands that they work with, its not just a business and quick ways to make money, they really believe in the bands that they sign and want a long term relationship with those bands and we really admired that.
Alt-UK: You've already released two singles from the album ('Look Alive' and 'These Days, I Have Nothing'), and last week you posted a preview of the new 'All Of This Has To End' video on your YouTube page; when can we expect that one to be released and are you looking forward to getting the video out there?
WATO: Yeah 'All Of This Has To End' is the 3rd single, its out in July. The video will be out very very soon, it was done by Sitcom Soldiers, who we worked with on the videos for 'These Days, I Have Nothing' and 'God Damn Good'
Alt-UK: If you could record a video for any of the remaining seven tracks from the album, which one would you most like to put to film?
WATO: I think 'This Is Called My Home' wold be pretty cool, we wrote that about being in a band and playing on stage so the film would just be a really good feel good story about how much we love what we're doing.
Alt-UK: You've got a UK tour coming up in October, what's next for you as a band though and can we expect another album in 2011?
WATO: Yes definitely, as i said, we've already begun writing and demoing for the next release, we're looking at recording it at the end of 2010 so it will definitely be out some time in 2011.
Alt-UK: Heading into the future we at Alt-UK would like to wish you all the very best of success as a band; is there anything else that you'd like to mention to our readers that we haven't already covered?
WATO: Thanks to everyone who bought our album and is supporting our band, and thanks to sites like yours who give bands a great platform and a way of reaching out to new fans, thanks!
An interview with the London based Irish four-piece Black Soul Strangers. The band is all set to release its debut album 'Animate' in 2010, and can here be heard talking about subjects such as gigging, crowd response, and battling with nerves.
This video was shot in May 2009 as the band prepared for a show at Camden Proud Galleries.


We recently sent over a few questions to Martin Allan Grey of The Guilty Hands, and he was kind enough to get them answered for us. Massive thanks to Martin for the interview, and below you'll find the questions that we asked and the answers that Martin provided us with.
Alt-UK: How did the band first come to be, and has there been any major sort of shift in style since The Guilty Hands first began?
Like a reformed wifebeater might say at his church group, I prefer not to dwell on the past. It's all about the now!
Alt-UK: Do you feel that being based in London has been a positive thing for the band, and if you could relocate to anywhere in the world, would you want to move, and if so, where?
Well part of me would like to relocate to some backwater town where they're so woefully short of good music, particularly live bands, that anyone half decent should get an ecstatic reception. Possibly Liverpool. But London is too much fun to leave behind permanently.
Alt-UK: Have you got any idea in mind about what your next single may be?
We're currently in the process of writing an album, and we don't want to set out to make a single, we just want to make a great record and pick the most singly track once we're done.
Alt-UK: You recently raised £15,000 on Slicethepie to record a new album; how did it feel when you found out that you were up for finance, let alone when you actually achieved it?
To be honest, when I heard we were up for finance, I thought "about time". I was more surprised when the money really started rising, I think a couple of investors put in big amounts, and I'm particularly grateful to them – as that really got the ball rolling and encouraged other people to contribute.
Alt-UK: Have you had any ideas yet about exactly how you'll be using the £15,000?
Well as part of the deal we produce a detailed budget for slicethepie to approve – we don't just get a cheque! We'll be obviously spending money on recording, but keeping costs down where possible. We also need to fund rehearsals, equipment purchases, repair, and hire, PR and marketing, van hire for touring – all sorts.
Alt-UK: As well as receiving the £15,000 for the album, you also won a Gibson Les Paul for being the first band to achieve financing, that must have been a pretty cool added bonus.
I don't think anyone's going to say no to a guitar worth about a grand, put it that way.
Alt-UK: Are there any plans to tour extensively once the new album is released, or are you just taking things as they come right now, without any major plans for the future?
Touring depends on the response to the album and the amount of press and industry interest it generates. We don't want to spend money travelling to far-off towns unless we're supporting a high profile act, or if our own profile has risen significantly. However we do have plans for a short tour of mainland Europe, where both promoters and audiences are renowned for being more generous than on our little island. Sorry, UK. Time to join the single currency, perhaps.
Alt-UK: If you could play alongside any artist in the world, who would you choose?
I'll be democratic here and think of a band we all like. I'll say 10CC.
Alt-UK: Is there any gig from the past that particularly sticks in your mind for any reason?
I would say the gig we played in Ypres, Belgium was especially memorable. The friendliness of the venues, the organisers, the audience, and their generosity in feeding and homing us (and buying our tshirts) will stick in my mind for a long time.
Alt-UK: If you were just starting The Guilty Hands now, with the benefit of hindsight, is there anything that you'd do differently?
Probably wouldn't have spent so much money on recording. Our producer did a great job, but it didn't really generate any more interest than our home recorded demos had. Even now we've got £15,000 to spend, we're being as thrifty as we can without sacrificing quality.
Hey Dan, so how did you come up with the name of Graveltrap?
It was a completly random pairing of two words that we thought sounded good when we were 15! We were down the pub (like you are at 15) and were trying to come up with another tag other than 'placid' or 'kneedeep' both of which suck ass big time and didnt sound right…so we kinda liked the sound of two random words…radiohead…terrorvision…greenday etc etc. We only ofund out that it meant a formula 1 sandpit about a year later!! I wish we had a better reason for our name but it just kinda stuck…I was thinking of changing it to Trapt about a year ago but lucky i didnt what with that shittty new metal band and all!
You come from Milton Keynes, that town seems to have churned out a hell of a lot of great bands – is it a pretty friendly scene and do you all get on there?
We have loads of good friends in MK bands…Phema, Lupa & OddManOut are some of our best friends. When we first started gigging there wasnt much of a 'scene'…just two venues in the whole city but one of them was run by our friend Paul who gave bands like us a stage to play on at the Pitz Club which was really when it all started. Bands like us and phema started playing regularly at the Pitz and started to gain a little following. We all came from the same school so knew each other but it was really when an ex-clown called Lee opened up 'Blinding Music' practise studios (RIP) that bands started to meet and hang out. That place gelled the whole scene together and we used to go up there all the time for a smoke and just chill out with other bands…and learn backgammon!! Thats my lasting memory of Blinding – a hell of a lot of skunk and backgammon…oh and a bit of music now and then…! I think because of these people and and a supportive rock journalist in the local paper we were able to help carve out an alternative rock scene which is now overflowing with new bands and fans which all centres around the Pitz…without The Pitz it would never have happened.
You have a lot of talent and seem to have an extremely refined sound for a young band with an average age of 19. So what's this down to?
We've all been playing our instruments for fun for years…not just to be in a band, and although its taken on more responsibility recently weve always enjoyed practise and got a buzz off of progressing musically.If things start to get a bit stale and boring it usually means we've been slacking and not putting enough effort into the music and although we're still predominantly 3 chord punk, every new song we do we'll try something new for us and if everyone picks up on the vibe and buzzes from it then we know we've done a good song. Its the only thing that keeps it interesting as although playing live is amazing too, I really like that feeling of 'wow – that rocks…lets do it again!' that you get when doing a new song.
The album, 'Concrete & Udder Chaos' sounded great to me – were you happy with it as a band or do you think that you have a lot more to offer than that?
For us the album do*****ents where we've been for the last 5 years. We've got together the best songs that we've made since our first demo and rounded them up onto one CD, and that mostly inlcudes songs about growing up and being at school. Songs like 'Kickin' Chickens' was written in 98 and was one of our first songs write up until 'What About The Marigolds' which we wrote just before the record. We are definatly happy with it in all respects, especially the production that Iain Wetherell did for us, but at the same time i think the sound of our newer stuff far exceeds the formulaic pop-punk of old. We've had a few slatings from various magazines about it being a pop-punk record…and it is! It sums up our experience of going against the grain of school authorites and our various encounters with girls and heartbreak and not fitting in…because thats what we felt at the time and what we wrote about. So we wanted our first album to sum up graveltrap as its been and what we've encountered as hopefully other people can relate to the same things. As regards what we have to offer i think we have a lot more…we're taking what we've learnt from pop-punk and mixing it with a lot more riffs and time changes/breaks. All our new stuff excites us musically and is also a lot darker in sounds and lyrics. I think we'll always be the punk rock band with the sing along chorus' but we've learnt a lot from other bands about build-ups and breakdowns and how to shape the music to take you to different places. We've learnt that rocking out has more impact if you throw some slower bits into the mix and that more can be done on guitars than just thrashing on power chords…although nothing beats it

What was it like touring with Solabeat Alliance, Whitmore, and Mixtwitch on the Over The Moon Tour?
We had a great laugh man. We learnt so much from them guys and as we played first we could just sit back after our set and watch a class punk show every nite!! We're gonna hook up with them all agin in the next few months as we're touring with each of them in succesion, so its gonna be like Over the moon part two for us…just extended over thee months! They all really nice guys and we got on well with all of them…sola beat let us sleep in their luxury van for a few nites and glen from whitmore put us up almost every other nite, and his mum did our washing! Mixtwich are just a constant barrel of potatoe twinged humour…even hearing one of them say ***** creases me up. When we first met the bands everyone was polite and quite reserved (until that nites party) but when we picked mixtwitch up from luton they'd been drinking all day and were wasted!! that was our first and last impression of them!!
I was actually on the boat for the first gig on the Thames, you didn't play – what was the story behind that?
Well john had decided to make his own way down to London for some reason rather than coming in the van. It was about 20 mins before it set off and there was no sign of him…then i finally get through to his fone and he's on the underground about six stops away. So with 10 mins to go I decided to run down to the nearest tube station to wait for him and show him the way to the boat…i waited for ages then got a call from Jon at Moonska (on the boat) that it was about to set sail and to get back. I just remember pegging it down the peir to see the boat just pull away from the harborgh and everyone on top waving at me…i felt like such a dick!! Then to top it off i saw Muzz (with his broken arm) and Alex pissing themselves and giving me the finger from the top deck. I was gloriously gutted and suitably embarresed!! So i did what anyone wud do…went straight to the offy and got a quart of vodka, sat in the park and got pissed!! I found some other mates who had missed the boat too and we got heavily sloshed and tryed not to think about how much i wanted to kill john!!
Where do you see yourselves as a band in three years time?
With the same three people playing our music to hopefully a bigger audience. You can never tell where you gonna end up in the music industry but as long as we keep doing it for us and people dig it then thats all that matters to me. I never want it to grow stale though and we've been lucky enough to feel as though we've progressed consistantly over the last few years so hopefully we'll continue to do so. Whether we get another lucky break and reach the point of major label sucess or whether we keep playing the clubs and releasing records on Moonska, we'll continue to do it as long as its fun and people are enjoying our music.
Do you have any advice for young people looking to form bands of their own?
I dont really have any advise for people looking to form bands as i think if they want to do it they shud already be in one. A lot of people i know talk about being in bands and forming bands and it never happens. If you enjoy playing your instrument and writing your own stuff then you will find other similar minded people if you stick to your music…just hang round the music block at lunch, take music GCSE, whatever it takes to get in with other musicians then just do it. Write a song, show the others it then play play play play play and play. You gotta practise at least once a week if not more. Cover other songs to make you tighter if you want, but just play. And when you good enough (and not until) record a basic demo and send it to your local venue. Practise and gig when ever you can, thats all id say.
Hey there Alex, introduce yourself to the people – what do you do in the band?
Hiya. I'm Alex and I want world peace and I like fluffy dogs… oh, and I'm the lead singer for [spunge]
How did you come up with the name of [spunge] for the band?
Got drunk, said a load of names, laughed at that one, kept it!
How many years have you been going now?
About 10 or 11… bugger, now I feel old…
You have released three albums – what is your favourite of the three and do you feel that your albums have matured as time has gone by?
Hard to say… I like them all obviously or we wouldn't have done them!! I've tried to pick one but I like them all as much for different reasons, I know that's a get out answer but it's true!! I would say that they have changed as we have gone on but I dunno if 'mature' is a word anyone would use to describe us lot!!
What is your favourite band to play with and what do you feel is the best gig that you have ever played?
Do you mean that we have played with or would like to? If it's the former then for me I'd say NOFX or Greenday, both big influences and both a bunch of genuinely cool people…. as for who I'd like to gig with that'd be Sublime but Brad the singer is dead so that ain't gonna happen!!

The gig that stands out for me is either Cardiff Castle with Greenday or Download with NOFX just because of who we were on the bill with but there are plenty of smaller shows that I love… ***** it, anywhere I can sing in, I love!
Who is the smelliest member of [spunge] that everyone complains about when you are on tour?
Jarvis without a doubt…. and not just when we are on tour either…
Do you prefer to play gigs or are you a band that feels more at home in the studio?
Definitely gigs, the studio is cool but gets really boring really quickly… we've always been a live band and that's what we love to do the most!
The band split from the label b-unique a while ago – what was the reason for this split from the label?
They didn't want us any more 'cause we had the guts to tell them we thought they were doing a lot of things the wrong way… no hard feelings, just a lack of understanding I think…. enough said.
Are you in talks with any other labels and do you plan to release another album in the near future?
We've got a load of new tunes already written (about 16) and we are gonna be sending them out n about, a couple of labels have expressed an interest but they wanna hear the new stuff so it's all still up in the air… Whatever happens there will be a new album even if we do it ourselves, which is something we are seriously thinking about…
Where do you see this band heading in two years time?
More gigs, more fun….
Have you enjoyed your time in [spunge] and have you found some good friends in the other band members?
Yeah, we all get on great, in fact we are the only band I know that don't hate each other!! We live in each others pockets for most of the year… I couldn't stand not getting on with them!
Do you have anyone that you would like to thank?
Too many really but the main lot is the cheesy one… the fans, it may sound cheesy but they really mean a lot to us, it's great to know that even without the bullshit that comes with trying to make it as a band the one constant are the people that like your music, not how much money you can make for them…. and of course all our mates and families!!!
Laters, Alex
I caught up with the lead singer of Sonic Boom Six, the band that takes ragga, hip-hop, bhangra and jungle, adds a blast of dub and reggae and detonates with a heavy helping of hardcore punk rock. Great desricption there! Read this interview now people and be prepared to be amazed by the powers of the late, great Sonic Boom Six!

Introduce yourself to the people – who are you and what do you do in the band?
I'm Laila and I'm the main vocalist/mc in Sonic Boom Six.
You are extremely open minded as musicians but surely you must have a favourite sort of genre. What is your favourite genre of music and more importantly who are your favourite band/artist?
We are extremely open minded and that's why that is such a difficult question to answer… Personally, gigs wise, I love to go to punk gigs and rock gigs like Queens of the Stone Age, Capdown, King Prawn. Even though I love listening to them bands at home, I also listen to NERD, JayZ, The Coral, Blur, you name it. When I'm out I love going to drum and bass nights so it's all very varied.
You recently released a new EP, the 'Turbo EP' on Moon Ska Europe. It has had extremely good press from many of the top websites but what do you personally think of this CD?
I'm extremely proud of it! It still brings a smile to my face when I listen to it. It was so good working with Ace and he totally captured our sound. It's good to have a record that actually sounds like the live SB6 that people see. We've learnt in the past how difficult that can be to do.
What have you learnt from this EP and what will you change in order to improve on what you already have for when you record the album?
We've learnt that Ace is god and we'd be stupid not to use him for the album. I think we'll learn to be a little more prepared than we were. We were really organised but we decided to change some of the lyrics right at the end. Even though no one else can tell I was still unhappy with them.
How do you think Moon Ska have done with the recording of your CD?
I think they've done well. We sold a shit load on the Whitmore tour and we have loads of people emailing us for a copy. I think it's benefited Moonska too as it shows that they're prepared to take a risk by signing a band that's like us and who don't fit the typical 'ska' mould.
It was about the time of the London show on the Smash It Up tour that you were in serious talks with Moon Ska – how pleased were you when they finally decided that they wanted to sign you?
We were very pleased. In Britain at the moment they are the biggest indie label that we could have signed to and the relationship between the band and Moon is really good. We've wanted to be signed to Moonska since we were 18 but we were in a shit band then so when we heard that they wanted to sign us we went for it.
Have you always been a fan of the label and the masses of work which they do to promote the bands on it?
Yeah. I've always wanted to be on the label and we've played with alot of Moon bands and they do a hell of a lot to promote their bands.
What is the best gig that you have ever played and what made it so special for you?
More recently we played in Leeds and being from Manchester it isn't that far away but we didn't realise what a following we had there. The last couple of times we played Leeds we were so late we literally had to get out of the van and onto the stage! The last time was amazing though. There were people with home made SB6 T shirts on, people knew our tunes and the whole place went mental. York was the same too. Must be a northern thing.
Your live shows are extremely energetic and you can really tell that you are putting your heart into it – how much do you enjoy playing gigs?
I love playing gigs more than anything in the world. On this last tour I was dying from the flu for 2 weeks. Normally I wouldn't get out of bed but I managed to squeeze myself into the back of a Peugeot 205 with the rest of the band, travel for hours and still do gigs. I was literally dying some days. On the way to Cheltenham we were ready to cancel the show cause I'd gone grey and was shivering in the back of the car! But I troopered on. The thought of not playing made me wanna get on stage and play the gig like it was my last ever one. There were loads of times when I was sick when I got off stage cause my body was just saying NO but its cool. Sweat it out.
You are a female vocalist – there are not really that many female fronted bands around but two female fronted bands are really coming through at the moment – No Comply and of course yourselves, Sonic Boom Six. Do you feel that there should be more women taking an active interest in getting involved in making music?
Yeah. For sure. It's amazing how many girls come up to me after gigs and say that they are inspired by us and No Comply. It's the coolest thing to see… I mean, surely it should be at the point now where it doesn't really make any difference. One thing that gets on my nerves is the way people still always insist on comparing us and No Comply with No Doubt. I mean, I see why they do it, but its so lazy and gender-obsessed. Its like comparing say, 5 knuckle to Green Day simply because have a male singer. Oh yeah, and big up Strike of 59.
With all the bands splitting up at the moment – what do you think of the current Ska and Punk scene in the UK?
I don't really know what to say. It's a shame that bands like Light Year and King Prawn had to split. I actually cried when I heard about KP! One thing that makes me laugh is how some kids assume that you make loads of money off it when you are living on a few quid a day literally. In terms of the scene theres still a load of great punk bands and Capdown are still holding it together, so are No Comply and Farse and Howards Alias in terms of ska-punk. Theres loads of great bands but the support in terms of sales and gigs is apparently dwindling. And yet you have all these bands like Busted dressing up as punks that are blocking that way for genuinely talented acts. I mean on the scene Whitmore get a lot of stick for being quite poppy or whatever, but I would be over the moon to see 'Alison' on Radio 1 rather than 'Been to the year 3000′ or whatever. Its just ridiculous that people don't see that, and you got those nay-sayers laughing when P-Rock went down. I mean, yeah maybe they didn't play mega underground stuff but it was real bands on there, a lot better than the mainstream major label stuff. There is the talent and self-belief in the scene but we can't fight amongst ourselves. It has peaks and troughs. United we stand divided we fall. We are gonna be doing this for a while and we just all have to find a way to keep the scene fresh and diverse and relevant. Which we are doing.
Many thanks to Laila for answering these questions for us!
Here is the almighty Six Foot Nothing interview! Sadly the band did not manage to get any answers out of Ross but nevermind – everyone else gave their answers so that is cool – 3 answers for the price of one interview! (Yes, I do realise that they're free to read.)


Hey there, introduce yourself to the people – who are you and what do you do in the band?
Dan – Hey Hey! I'm Dan; I play the Sea Bass and forget songs!
Jonny – I'm Jonny, I play the drums and come up with cunning plans to advertise the band
Mark – I'm Mark I play guitar, sing 'woah' in a high pitch voice and deal with the bands legal issues!
How long has Six Foot Nothing been in existence – and have you always been the same sort of genre?
Dan – Me n Jonny joined in November 2002 but we created all new songs so I guess since then. We haven't always been in the same genre! We started off as "Shit Rock" then with a guitarist change we moved up to "Average Rock" into what you hear now.
Jonny – I used to be in a metal band before Ross asked me to join as their original drummer kept letting them down. They'd organised gigs and everything so it was a bit of a rush job for me but I just ended up staying after my 'fill in' slot. We started off a bit pop-punk, the songs were really basic but very catchy. Nowadays we play a bit heavier, a bit faster and the songs are a lot more technical than they once were!
Mark – The six foot nothing as you see it now was established in May… when I joined! I don't really think that you can put us into one category as we have all individually taken influences from lots of areas and we have thrown them together to make six foot nothing… we seem to have kept the same style (since I joined), but we have just developed it!
A lot of bands start off with a group of friends just messing about on their instruments and thinking it would be cool to start up their own band and make the kind of music that they want to hear – was it the same with you?
Dan – Well when I joined we only had about 2 weeks before our first gig so we didn't really have time to mess about!!!!!
Jonny – I think it was the same, we did have gigs organised so it was a hurry as we had to put a deadline on writing songs which is never good, but we did mess around a bit, having fun is the most important thing because if you don't have fun writing these songs then it suggests you won't have fun playing them either! We had the odd game of football, wrote a few tunes and took the piss out of Dan a lot – a regular source of amusement.
Mark – I joined at a later date, so six foot nothing were already quite established in the sense that they were playing gigs and had got past the stage of just messing about. So I joined because I wanted the opportunity to play music alongside some big name bands like Route 215, Howards Alias, Not Katies. Six Foot Nothing enabled me to do just that!
Has the band suffered at all due to members leaving the band and moving on to different things?
Dan – It's slowed down due to 3 members going to uni now. But no ones left yet. (Touch wood)
Jonny – I wouldn't say suffered as such, like Dan said we haven't done much for a while as 3 of us have just started at uni. Luckily we're all in Sheffield though so it could have been worse. We've had one guitarist change, bringing in Mark to replace Smit, but it's made us a better band I reckon, the whole idea was to start writing better songs and to change direction a bit, and I think we've done that. The original bassist and drummer both left so SFN ended up with me and Dan instead!
Mark – I think the changes that have been made, have been made to push the band forwards… but I would say that as I'm the latest addition to the band… But the reviews we got when I 1st joined were positive saying that we were a lot better with this current line-up.
I recently reviewed your CD, 'Six Sides To Every Story' on the site – what do you personally think of this CD and how do you think you can improve on it for the next release?
Dan – I am very proud of this cd. Considering we had been together about 8 months when we did it, I think it is good and shows to people that saw us when we first started how we have improved. And how we continue to improve!
Jonny – I really like it! If I didn't like them I wouldn't have wanted to put them on a CD. They are the 4 songs we enjoyed the most at the time so we decided to put them all together. It can definitely be improved on. I think it sounds a little weak and the production is poor, if we can make it sound heavier, more powerful and get a better sound quality it'd be great. I'd love to re-record a couple of the tracks with some new ones too.
Mark – Recording quality!!! We actually recorded the music LIVE… it was all done in one take except for the bass line in 'Everyone needs someone to blame and I blame you!' (haha)… I suppose you get what you pay for though, it very cheap to say that we produced a CD with over 18 minutes of music. I think we could do with recording a couple of the tracks because they deserve much better quality recording and with a bit of work songs like 'Sky Came Falling,' could be really special!
Are you a band that prefers the recording side of things or is gigging more your thing?
Dan – Definitely gigging! As I said we had a gig before we even had a band! And we have had more gigs that some bands that have been round twice as long. As soon as I come off stage I want to play another gig!
Jonny – gigging all the way. Our EP was the first time we'd recorded so it was a new experience for us. I found it all a bit boring, it was great to finally get the songs on CD but its not as good as gigging, there's more energy involved in gigs and you have people reacting to your music which is great.
Mark – We are a band that realises through experience you cant have one without the other! To produce a top quality CD you need to spend alot of time in the studio spending alot of money. The majority of our funding comes from gigs (or our own pockets) so the more gigs we play the better the cd we get… at the same time to get alot of gigs (like doing a full UK tour) you need a demo to send to promoters! Its a vicious circle so really we have to enjoy both or it wouldn't work!
Do you have any main gigging buddies or do you try to play with a large range of bands?
Dan – Well we have friends that are in bands, so often we end up playing with at least one of them. But we do try to play with different bands. We'll near enough take any gig!!!
Jonny – We've played with so many bands its untrue, but when we play locally we always try to play with some friends as the local bands tend to stick together and help each other out with gigs.
Mark – We played in various places in England this summer, so it was difficult to stick to gigging with one band… But when we play local shows we usually play with other Dronfield bands such as Neighbourhood Watch
Having never been to one of your shows before – how would you summarise what goes on at them?
Dan – Well we get there sit around then play! One person said we talked more between songs than any other band he's seen! Which is good cus it's not just about music at gigs, I wanna be all-round entertained at gigs.
Jonny – Four guys having fun playing the songs they've enjoyed writing. Plenty of on stage banter, plenty of crazy behaviour, a fun sort of an atmosphere and some pints getting sunk!
Mark – Different each time… we always take good memories from each gig so go and check us out!
What is the best gig that you have ever played, and what made that gig so special for you?
Dan – Has to be the punktastic gig at corporation when we dressed up as women! Made for a good talking point! Skirts are so much more comfortable! Anyway! Closely followed by the gig where we took energy tablets before! I couldn't actually stand still!
Jonny – We played at the local sports and social club, we were the 'headliners' and it was great as it was packed with all our friends and family, and although its nice to play to new faces, playing them sort of gigs is great as the atmosphere was great, it was like they were playing with us rather than us playing to them.
Mark – August 6th Sheffield Corporation, My Awesome Compilation, Buzztone, Fallout 40, Snatchback and Neighbourhood Watch! This was a hometown gig in arguably the UK's most established alternative club and we was playing with our buddies NW, which is always fun. what made is so special was playing alongside Fallout 40 and My Awesome Compilation! and My Awesome Compilation! You can just tell that these two bands are DESTINED for great things and playing with them is a real honour! Our set went well we sold a lot of CDs and i enjoyed our in between banter which made it a night to remember!
Do you have any advice for people looking to start their own bands on how to go about getting gigs/getting the word about?
Jonny – I'd say the most important thing is not to be afraid to share your ideas. If the band doesn't like them so be it, but if they do then you're away! Try and get regular practises and just blitz through any ideas you have. Also, go on any music websites you can find and advertise like crazy, your CD's, your gigs etc. that way at least you can say you tried!
Mark – Really you just have to get out there… Start gigging early, make mistakes, recover do better next time! Also look at people you admire and find out how they got to be where they are now!
On one final note… Do you have anyone that you would like to thank?
Dan – Yes, yes I do. Firstly it would have to be my parents for actually buying me my bass! And also Ross for asking me to be in the band in the first place and giving me the opportunity. Plus fans and bands we've played with Blar Blar Blar! All the standard people!
Jonny – Jess for being hardcore, anyone who has listened to our music either at a gig or on CD, any bands who we've played gigs with, my family for buying my drums and letting me annoy the hell outta them by practising, Punktastic for giving us somewhere to spread the word and giving us gigs, and Alt-UK for taking time to give our music a go!
Mark – Mike and Rob FDK for being an inspiration to all the local bands… and in particular mike who fed me info on six foot nothing before I joined them… and then told me all the stuff I should have known early after I'd joined!
Ok, you have been with Mr Zippy for nearly 6 years and now you have decided to leave the band, what are your reasons for this decision?
Well, I think if you sat me down and asked me, or if anyone did for that matter, you would get a different version of the story. There are just so many different reasons. The main ones are I guess quite simple, yes I have been with Mr.Zippy for nearly 6 years, I've done quite a lot with the band but where as it's been good…it's never been quite what I have really wanted, it's never really been the right thing and I've always had my doubts. Sometimes it's been great, other times I've wished I wasn't on stage. Sometimes I'm happy to be working for the band, other times I'm screaming at myself because it feels like no one is helping me or thanking me for any of my work. The tours have been fun…mostly, but sometimes shows can depress me more than anything else, when I start to realise that the people I am playing to have nothing in common with me, I could probably walk round the whole audience and talk to everyone and not meet a single person who I could connect with (this isn't the way it always is of course!) but it does happen. Also, the music world is changing, very few people seem to understand what we were trying to achieve, and I'm not even sure if I do. Punk rock has turned from music into product. Most bands I know now seem to talk a lot about sponsors, about booking agents, about labels, about videos about where they are touring next and it's a whole world from where I am. I can't stand on stage sometimes and justify what I'm doing. I just want to play guitar. From what I can realise these days, the least important thing on an album is the music. Our last album 'Ambition Is Critical' suffered greatly from being rushed into production, there are songs on there I love dearly and that I'm very proud of, but there are also songs on there that I love dearly that we can't play live and songs on there that make me cringe. It's not that I don't love punk rock, as it's in my blood, but, well, I guess it's personal to me – I don't feel part of what is going on anymore. My health has also been a big issue, I suffer from some things I don't really want to talk about, but the band has affected these in a bad way. I've got more to give and more to do, I know this all sounds like I'm moaning or even pretentious, but thats the way things are. In a few weeks I will be 28, that's quite old I guess. Sure I don't look feel or act like someone approaching 30 but I am and there is so much more I want to do with my life. Not to sound like an asshole but sometimes (not all the time, just sometimes) it feels like the band has been a dead weight around my legs that I've been dragging around for 6 years, I've kept trying to take it places but we've always been held back. Well now it's time for me to open the door, take a deep breath and walk away.
The tour with Caffeine will be your last few shows in the band, are you looking forward to them and will you put your all into these very special gigs?
If anyone comes! Yeah, of course I'll be giving it 110%, there's not a show where I havn't given it 110% I don't think, no matter what the circumstances. But yes, knowing these will be my last shows with Mr.Zippy I really will be living every last moment as it it was my last…because it will be! You gotta put all there is into it or there is no point, if you are just going through the motions (and I could name names) then get a job in a factory.
What do you plan to do after you leave Mr Zippy – do you intend to form a new band in the near future or are you going to escape from it all for a while?
I think I'm going to escape it for a while, see what happens, see where I go. Forming another band would depend on where I settle, and also what style of music I want to play, I don't think I will play music like Mr.Zippy again – or of course it will sound a bit like them because it would be me playing and writing but you know what I'm saying here. I don't want to get myself into the same rut again though, so things will be different. But until then, like I said, I think I'll just sit it all out and watch the world go by. Do some living for a change, spend some time with my girlfriend, catch up with old friends and try to remember who I am.
Do you think it will be hard trying to adjust to a full time job after spending the last six years of your life on the road with Mr Zippy?
Of course, and I'm not looking forward to this thing I have to do. I have to work, I really do, for the past however long I've been speaking out against working and now, even if it's just for a few months I have to get my head down and earn some money to dig myself out of these debts that I am in…then I truly can face the future.
Mr Zippy are currently writing stuff for a new album – how is that sounding?
A little too poppy in places for my tastes, but some of it is sounding brilliant, of course the band now has Frank (Zippy bass player) helping with the writing right from the start and he's bringing in some amazing ideas, and of course, all the guys, when they are writing get some ace ideas bubbling, so I think the next album will sound good, I don't know if it'll be my 'thing' or not though.
You seem to get on extremely well with the other members of the band (Jon, Mads, Pete & Frank.) Do you think you will miss life on the road with them after you leave?
Well, I'm not gonna speak bad of my band, I love them all like brothers and hate them all like brothers too. I've lived with Pete and lived with Jon, and being on the road with them and then going back into co-habiting with them is two different sides of the coin. It's sad to say but we formed the band because we were friends, but we hardly hang out as friends anymore, we rarely share any common interests. Yes I do get on with them when we are together…sometimes and yes, of course I will miss them, but only the same as I already miss what was once a great, tight-knit, close group of friends.
After all these gigs you have played being in the band you must have some funny stories to tell us – what has been the funniest thing you have experienced on tour with Mr Zippy?
Ha ha, that's like asking me my favourite album or song! ha ha! OK, that really is hard to say. We've seen and done some stupid crazy stuff. We once all saw Corey Taylor from Slipknot in Subway, that was funny. Us and 4ft Fingers once all got so drunk that me, Mads and Pete (Zippy singer + drummer) ran naked across fields in Buckinghamshire and Mads got covered in dog shit. Everything we did and saw in Japan and Norway was amazing too…it's hard to pick just one moment. We've had some amazing times together, and sometimes…we've been a great team. The funniest…*****! I really don't know, when everyone is on form we can laugh for 24 hours…PLUS!
Is there any chance at all that you will come back and re-join the band in the future, or do we all have to accept the fact that you are no longer in the band and are never coming back?
I think you'd better just accept it…but I'm sure you'll see me again. Somewhere