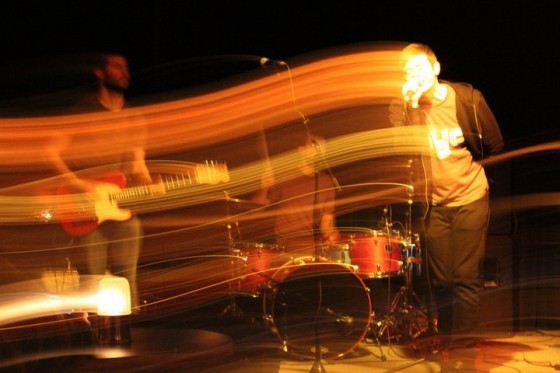 Bombs Into You is a band based out of Portland, Oregon in the United States of America and their songs will evoke a mix of euphoria, anger and determination within the listener. 'Nearly' is the classic emotive tune that everyone will relate to and "feel something for", while the sudden electro beats (and Jared Jensen's soft vocals) on 'Fighting Over Elevators' has euphoria dripping from every chord. 'Been Your Art' is also worth a mention as a standout tune; its own cooly-delivered venom will have your anger handled and dealt with in a few easy minutes.
There's something delicious about a band that can serve up something that appeals so easily to a range of emotions like Bombs Into You. The great thing is that, despite their reliance on tech in the studio, out live they come off as a full and proper rock band – something akin to how Depeche Mode might work if they were still lurking in basements.
The band is currently working on a new full-length album (their second), but in the meantime there are a number of quality live and studio recordings, alongside demos available to download for free via the act's official website.
For more information visit: http://www.bombsintoyou.com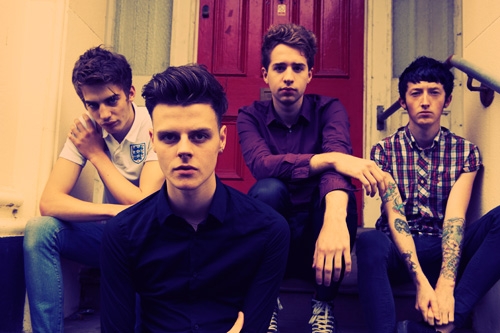 Influenced by all the best punk and rock greats – see Springsteen and The Clash (via Charles Bukowski's raw and honest poetry), Sharks make music for the disenchanted and honest working man, and they do it very well.
Having supported Social Distortion over in the States, and in advance of playing with Tribes over here, the band has all the right scuzzy rock credentials to appeal to audiences across the great genre spectrum from rock to metal via pure punk and back again.
More importantly, this band has the drive and energy to make a real difference to punk music in 2012, and they've already been cracking on with that mission and touring the world.
This comes across perfectly on tracks including 'Fallen On Deaf Ears' and 'No Gods' – these are the types of career-defining songs that bear the passion and commitment of a band who you'd swear were trying to damage the idea of passionate and committed rock (sort of like The Clash… this lot really…really love The Clash). They're not. They're good, and you should listen to 'em. Go on.
For more information visit the Sharks Facebook:
https://www.facebook.com/sharksuk

Acoustic Jim is a Jason Mraz-inspired soloist from London who gained his rather unique name from a friend who shouted it at him after he took to the stage at an open-mic night for the first time.
Since then Jim has released two EP's on his own record label and received the People's Music Award in 2010 for 'best male solo artist'.
The nature of acoustic music often makes it difficult to create a 'big sound', which may be why he drafted in The Wires to help him out on his debut album, released last week, called Hanging Up My Cape.
The album features a strange mixture of tracks; some reminiscent of Jason Mraz taking his listeners straight to the beach and some slower love-songs comparable to the works of James Blunt.
Hanging Up My Cape is a pop album at its core but with a mature edge to it and an ensemble of brass and bass instruments.
It's a sound that grabs the listeners attention but even with the emergence of unlikely acoustic successes like Ed Sheeran, may not find its rightful place in an already crowded underground London scene.
The lead-track to the album is called Time and features a quirky 'Bucket List' style animated video of two characters fulfilling their dreams before they die.
As a word of warning the chorus of the track is likely to be spinning around your head for several days after listening to it, which seems to be one of Jim's trademarks.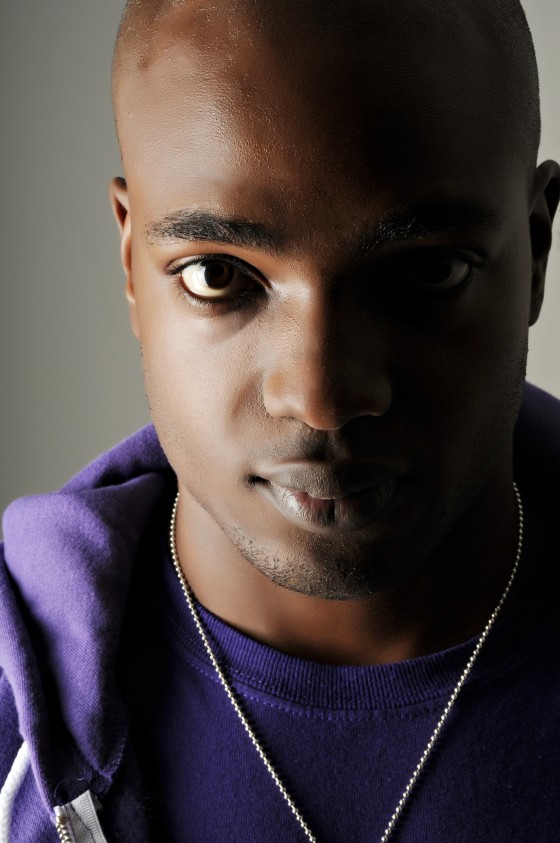 Ever wondered what would happen if a body-building UK rapper collided with an Oxford University student. Well… Zuby is the answer. The 24-year old London-based rapper has sold more than 6,000 albums without record label support spending most weekends selling his music to fans on the street.
He is an anomaly in the world of hip-hop; having achieved an honours degree from Oxford University whilst building up a successful career in music, with three independent albums to date.
And in an era of somewhat mindless lyricism usually preaching about money, drugs and guns, Zuby's music is powerful, raw and urban but without so much as a curse-word.
Zuby has a captivating sound fuelled by his hybrid accent, having moved to Saudi Arabia at a very early age and been educated at an American school before coming back to the UK. His voice sounds American at times, with a British twang.
His new track 'Stay In My Lane' is Zuby's first venture into dubstep; fusing sounds that make his music more tailored to dancefloor's nationwide having already been picked up by a number of DJ's.
It's a winning concept that will be set to increase Zuby's seemingly ever-growing army of young followers.
Watch the new video for 'Stay In My Lane' here: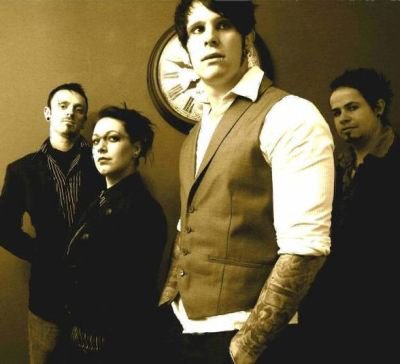 This Hull-based lot have some very credible influences and contacts – not only can they count Paradise Lost's guitarist Greg Mackintosh as the producer of their EPs and their forthcoming second album 'Reward For Obedience', but throughout their long history the four-piece (made up of Danny Barr on vocals, Lu Dixon on bass, Lee Dixon on guitar and Phil Owst on keyboards), have maintained a high profile  by touring nationally and internationally, securing a record deal with independant label Casket Music in the process.
In their eight years together the core members of the band have battled many line-up changes and as a result the music has steadily evolved from an intense crossover of industrial sounds into a more gritty and raw electro-metal assault that has won them fans and media attention from right across the alternative spectrum.
Embedded deep within their debut album (2007′s 'Cross Contamination') are classic hard-hitting goth influences like Gary Numan and the aforementioned Paradise Lost (see 'Can't Carry On') alongside the more contemporary work of cult industrialists Zeromancer and the keyboard-driven decadence of the Deathstars (check out 'Ghost In The Machine'). For their second album though, the band have stepped things up to a whole new level embracing heavier and more full-throttle metal influences like Killswitch Engage and Spineshank (the latter's new material shows a progression away from industrial in to more metalcore territory).
Despite their brutal new approach to live performance and sonic delivery, thematically the group look to discuss personal relationships and emotions to an unusual depth, with the central aim being to appeal to every person no matter what age, or situation.
It is my opinion readers, that Systemyk are worth your attention because their music is affecting, unapologetically raw and totally direct. It does also help that they are one of the hardest working acts on Hull's scene having played relentlessly throughout Yorkshire (they've also completed an tour of the Czech Republic most recently).
Indeed, their drive and determination is such that they have secured a dedicated and loyal fanbase and despite the gap between albums, over the last year they have been working hard to promote the new material on large and intimate stages alike.
The band's second album 'Reward For Obedience' will be out later this year.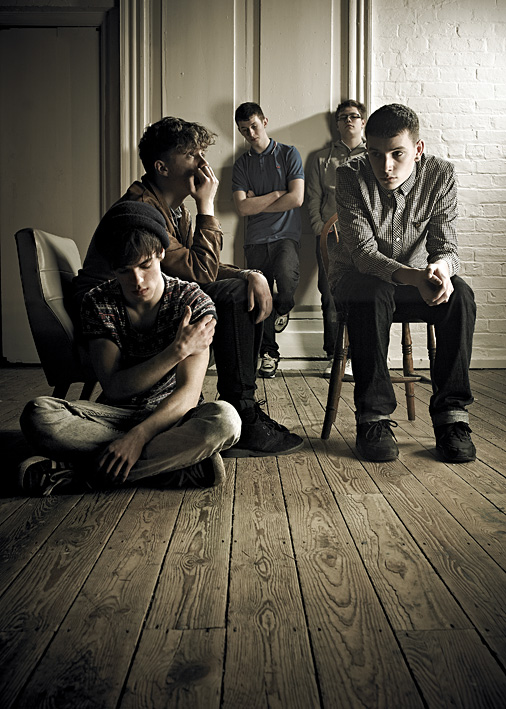 Birmingham-based five-piece The Carpels are about as eclectic as you can get, creating a merged modern sound from a vast array of genres including punk, dubstep, indie and electronica.
The band scored a record deal with local label One Beat Records last year which is owned and run by Jon Brookes (the legendary drummer of The Charlatans) and his business partner Ian Light which has exposed them to a huge influx of attention from the industry.
Last month they played at The Queen of Hoxton in London as part of the club night This Feeling with fellow Birmingham outfit Tantrums. There, they were snapped by Libertines photographer Roger Sargent, who has a reputation for shooting bands which are heading for the mainstream.
They were also fortunate enough to have their debut single, Sand, played on BBC Radio 1 as part of Rob da Bank's show and by Mark Radcliffe on his show on BBC 6Music.
For a band that's still in its infancy (most of the boys are only 18 apparently) they seem to be causing a sensational storm!
Their new track, called 'Handshakes', was produced by Jim Spencer who's worked with New Order, The Cribs, Doves and Shaun Ryder amongst others. It perfectly exemplified the clean sound that The Carpels are becoming known for with screaming vocals and catchy lyrics.
Testtone3 should be hailed one of Leeds' most exciting and innovative bands of the last decade, coming across like a phat (note, the ph…) mutant crossbreed of Pendulum and Hendrix, the group is made up of Adam Gauton (vocals), Andrew Precious (bass) and Richard Precious on synths and programming alongside the more recent addition of robo-armed drummer Matt Collinge.
As stated, the band's music crosses genres in a way that few other acts in the North of England can confidently boast. Taking the heavier parts of Pendulum and mixing that in with the punk snarl of The Prodigy and the accessible guitar goodness of Mr. Hendrix, Testtone have afforded themselves a strong reputation on a local and national level for raucous-yet-technically-sound live performances and solid recordings. With a slew of well-received TV and radio appearances recently, the band is starting to see their hard work pay off with some nice festival spots over this summer.
The band formed in 2004 with a core mission to create a hybrid between electronic music and classic rock and roll sounds. The four have been credited in the past as one of Yorvik's hardest working and most accessible live acts and they have toured extensively in the north which has afforded them dedicated followers in key areas like Hull, Leeds and Manchester.
The act's first EP, 'Fuelled By Substance' was released in 2007 and central tracks like 'Goin' Down' and 'Get On The Dancefloor' display the band's feel-good attitude toward making music to enjoy and dance to. On the former, sky-scraping classic guitar riffs meet jackhammer beats inspired by The Prodigy and The Chemical Brothers and Adam G's Brian Molko (Placebo)-esque vocal stylings for a resounding and heavy-hitting combination.
The band has more recently released an EP, 'Mind Graffiti'. Early indications are that the group has evolved from a scene standouts into a polished electro-rock juggernaut set to give the likes of Foals and Does It Offend You, Yeah? a decent run for their money. The thing that separates Testtone from the aforementioned big-hitters and other up-and-coming local crossover bands on the scene is their energy.
Call me clichéd, but honestly the live performance has to be seen to be believed. This lot are mental on stage and their approach is effortlessly entertaining. It's like one massive rollercoaster night out, Testtone3 is pure skull-candy.