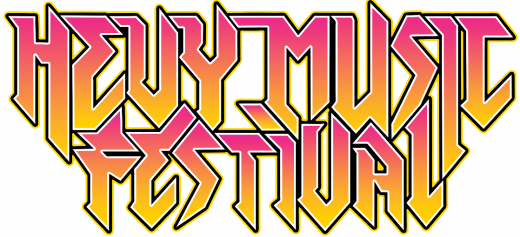 In only its third year as a festival and only its second at Port Lympe Wild Animal Park, Hevy has managed to attract the kind of line up that would whet many a musical appetite. After a prolonged wait to enter the festival due to very thorough bag checking and there being just the one entrance there was a well laid out and well catered for festival.
Taking to the Rock Sound & Macbeth stage early Friday evening, Flood of Red. Drawing an almost full tent, the Glaswegians put their stamp on the opening day. Creating an atmosphere other bands must envy, they provide moments of awe as well as full on crowd sing alongs during a stunning set. Providing something of a pleasant surprise were Don Broco. Their style of pop-rock made for a high energy show that had it all. Circle pits, a wall of death, it was no holds barred. Lower Than Atlantis are a band with a lot of expectation. They put everything in to their set and really gave the crowd a memorable show. Mike Deuce is every part the front man commanding the attention of near everybody in the jam packed tent. Mixing it up with a Foo Fighters covers medley of 'Everlong' and 'The Pretender' the lads from Watford could do no wrong. A brilliant performance by one of the best new bands in the UK right now.
Early on Saturday afternoon and Gold Kids bring their brand of hardcore all the way from Italy. Despite a short time on stage the only downfall was the frustrating sound of the main 'Jaegermeister' stage. Made up of former members of Cry For Silence and current members of Gallows and Haunts, Spycatcher took to the stage and made the most of the crowd they drew. Highlight 'Don't Like People' really stood out as a great song, played by a convincing band. Make Do And Mend blew the crowd away with a raw, passionate display during a loud and energetic set. Playing songs from their latest LP 'End Measured Mile' as well as some from their older EP's they turned out to be one of the best acts of the festival. Playing for the last time as a band The Ghost Of A Thousand went out in style. Playing a set full of crowd favorites from their career that spans back to 2004 they are sure to be missed now they've called it a day. Title Fight have their own, unique style. Blending pop punk and melodic hardcore they play with a confidence way beyond their years. Fingers crossed they make the trip back this time next year. With an hour on stage, Architects pulled in a decent crowd with frontman Sean Carter putting on a high energy show. Going through new and old songs the band are a perfect warm up for the headliners. Then came The Dillenger Escape Plan who displayed what can be only described as near chaos throughout the whole set. It's a joy to watch as every member of the band throw themselves around the stage and play the most technical music of the whole weekend. Finishing the set by destroying half of the equipment on stage made for a fitting ending.
'Defend Pop Punk' If you're familiar with this saying you will no doubt be aware of Man Overboard. In recent years pop punk has been home to many a band producing a painfully generic sound. Man Overboard break that mould. The dual vocals of Nik and Zak work perfectly together and it's a real pleasure to watch a band who really love playing. Polar Bear Club were a slight disappointment, playing very well but delivering nothing more. At the opposite end of the spectrum are Touché Amoré. From the off they mean business, blowing the crowd away after seconds in. This is what people go to a festival for. Not just to listen to well played music but for the band to reach out and connect with the crowd, giving something to remember. This, the first trip to the UK for Living With Lions provided a complete open mind. They play a great slice of edgy pop punk that really went down well to a relatively small crowd. A solid set and great introduction to the band. Frontman of La Dispute, Jordan Dreyer praises the crowd mid set for "turning one of the worst experiences as a band into one of the best" this was in reference to the sound problems that riddled the entire set which meant a whole song was played a guitar down. Despite the poor luck on the day the mood wasn't dampened and there was still a value to watching a very special band. Jordan's vocal delivery being the highlight. Being washed out by the poor sound of the main stage and only attracting a somewhat small crowd, We Are The Ocean put on a lack luster show that in no way backs up the high quality of their recorded material. Feeling disappointed it was up to Defeater to deliver. Opening with 'I Don't Mind' was thought provoking start to a stellar set. The tent was packed out with the whole crowd singing to many a song and the crowd outside desperate to catch a glimpse. Up step Welshmen Funeral For A Friend who managed to take the crowd back in time. To a time where a large part of the audience were finding their love for music. Even line up changes of late have had little effect on the impact of crowd favorites 'Juneau' and 'Roses For The Dead' It's no surprise as it's Matt Davies that makes this band. New songs off their latest LP 'Welcome Home Armageddon' had a mixed response but this never put the set in danger. It was full of all the sing alongs and crowd interaction. As they finished it's hard to avoid the thought they would have been a worthy headliner. That duty was reserved for Four Year Strong. Opening in not so convincing style the band turned to throwing food into the crowd to get them through. Urging them to "fight over it" As amusing as it seemed at the time it's hard to see how it all fitted in to what this festival is all about. They played songs from their back catalogue which went down just as well as the new tunes. Overall there's no doubt there were other bands that would be more fitting and arguably more deserved of headlining the main stage on the last day of the festival.
If you're looking for a line up that's all about alternative bands, Hevy is the festival for you. With many UK festival exclusives it's the only chance many people will get to watch some of the bands from across the pond. Although the arena is well organized, one downside of the festival would be that the camping left a lot to be desired. There were no shower facilities onsite and at night there was little security to deter the 'up all nighters' causing plenty of trouble in the small hours. The biggest improvement the organizers could make for next year would be to have the arena open later or even have camp DJ's to give people more to do at night. Despite this, for the price you pay the value is outstanding. Can't wait to see what year 4 holds.
Reviewer: Steve Jones // jonersays.tumblr.com