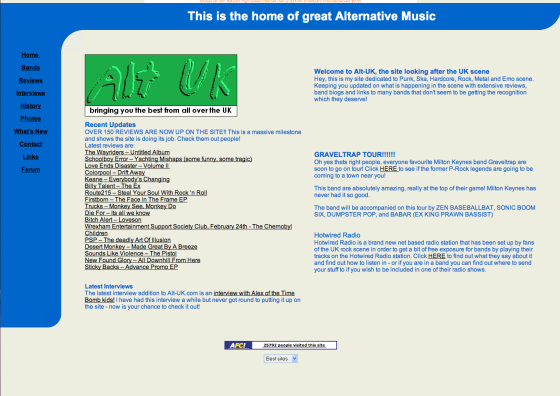 Alt-UK has been online now since July 2002. It started out as a freely hosted site, as you'll see from the image above of how the site looked in its earliest form, with time the site evolved however, and between June 2003 and June 2009 the site could be found at Alt-UK.com. Although the rights to Alt-UK.com were acquired in 2003 however, it wasn't until a year later that the site received its own dedicated hosting as opposed to the free hosting that it'd previously taken advantage of, and in summer 2004 the website moved to the PHP Nuke platform where it'd remain for the next 5 years, building up in excess of 2 million page views over the course of this period in the process.
In July 2009 Alt-UK found a new home at Alt-UK.net, and also moved across from PHP Nuke to WordPress, and this should now be the site's home for many years to come. From the below screenshots you can also see the slight rebranding that the logo underwent in 2010, moving on from the logo that the site had from 2004 onwards in favour of a new logo which emphasises the website's British base (although we have over the year's covered artists from all over the world, and continue to feature bands and artists from all over the globe).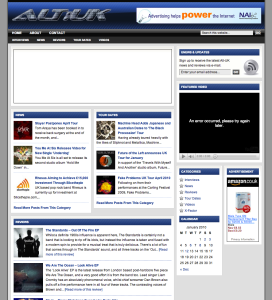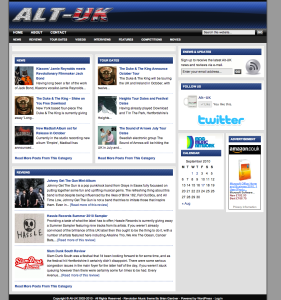 Here at Alt-UK we have a database of over 600 music reviews and very much enjoy writing about upcoming bands and artists. Punk and Rock is our main focus here at Alt-UK, we do however feature artists of all different styles and backgrounds and don't discriminate on the basis of genre.
As well as covering music we also have a movies section here on the site, featuring film news and reviews that catches our attention.
We're always looking for new writer's to contribute to the site, so if you think you'd be interested in working for Alt-UK in any capacity then please do get in touch and maybe we can sort something out. Equally, any record label/PR representatives out there, please do get in touch and we can then look into working with you and the artists that you represent.
Alt-UK features a Facebook fanbase in excess of 2000, and a Twitter following of more than 5000.