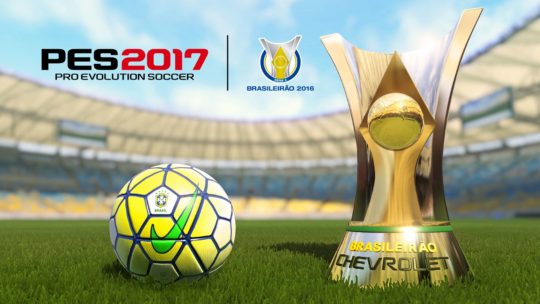 Konami have been announcing some seriously impressive partnership deals for PES 2017 just recently, and another deal has now been announced as it is confirmed that the Campeonato Brasileiro will feature exclusively in Pro Evolution Soccer 2017.
Walter Feldman, General Secretary of the CBF, had the following to say about the deal to include Brazil's most famous football tournament in PES 2017:
We are starting this partnership with great expectation, both for the growing space this segment has been gaining as well for Konami's excellence. We have been working for some time to achieve the Brasileirão's entry into the world of electronic games and we believe that this is merely the beginning of a great job we plan to do in this area. There is absolutely no doubt that the games industry is a fundamental step when dealing with the multiplicity of aspects, with the internationalization of Brazilian football and the loyalty of fans.
With this deal in place, PES 2017 will therefore feature all of Brazil's most popular stadiums, including Estádio do Maracanã, Arena Corinthians, Estádio Cícero Pompeu de Toledo (Morumbi), Estádio do Mineirão, Estádio Beira-Rio and Estádio Urbano Caldeira (Vila Belmiro).
PES 2017 will be officially released in Europe on September 15th 2016.