Football Manager Classic Mode only even launched for the PC with Football Manager 2013, it has now found its way to Sony's handheld system though and it's now easier than ever to take your Football Manager experience out on the road and live out the life of a football manager wherever you may be.
If you've played Football Manager Classic on PC then this version of the game for the Vita should be very familiar. The controls can be a little on the fiddly side and you will from time to time find that you make selection errors due to the small size of the on-screen buttons, ultimately this is a PC game that has been fitted into a 5-inch touch-screen though and this was therefore always likely to be an issue; fingers and thumbs are a little on the fat side compared with pinpoint mouse precision. Load times are also likely to be slower than you're used to, although exactly how much slower the game runs on the Vita will depend on how many leagues you have running and of course the specifications of the computer that you're comparing it to. If you've played the game on PC for any significant period of time then holding down the left shoulder button in order to drag and drop is probably the only awkward control that you're likely to come across, although even that becomes pretty instinctive once you've sunk a bit of time into the game. For those that are new to the series though then Football Manager Classic 2014 is probably going to seem incredibly daunting as it really isn't a game aimed at the uninitiated. The PC version comes with five tutorials to help ease new players into the game, there are no such tutorials to speak of with this PS Vita version though and it certainly seems that the game has been marketed towards those that already have a fairly in-depth knowledge of the inner workings of the Football Manager system.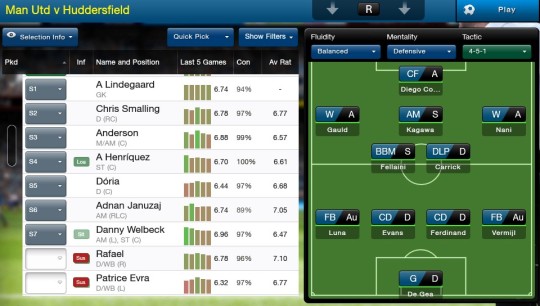 With the ability to run leagues from up to three nations from around the world at a time, Football Manager Classic 2014 provides a decent database of players and the scope to improve yourself as a manager and move on to bigger and better things. You can take on a management job from as low down the pyramid as the Conference North/South if it's the English league system that you're interested in, and there are a lot of nations to choose from as you select the ones that you wish to have active. You may only intend to manage in one particular league system, adding one or two more will increase the player pool in those nations though and you may feel that the increased load times are worth it in order to feature a larger talent pool from some of your favourite footballing nations.
If you've played the game on PC then you'll be impressed with how well the 3D match engine translates to the PS Vita, providing a match day experience that is equally as immersive as ever. Football Manager has always been an incredibly addictive video game and this is certainly no different with Football Manager Classic 2014, a game that drags you right in as you're pulled through the ups and downs of managing a football club. This game may not stop you from playing Football Manager on your home computer if you do so already, the gameplay is certainly extremely impressive though and provides a powerful alternative to loading the game up on PC every time you're craving your next Football Manager fix.
When you're getting stuck into a match and things aren't quite going your way, there are a variety of instructions that you can issue to your team to change the way that they're approaching the match, and your assistant manager will also give you their advice throughout the game about where they think you can sharpen things up and improve your team's performance. You don't have to listen to your assistant if you don't want to, sometimes they do come up with some fairly useful advice though and you can then quickly and easily make changes to your tactics. For most games you'll probably find that you're playing with pretty similar tactics and achieving success, for certain games you really do have to change things up though, taking advantage of any possible weaknesses in your opponents' team in order to stand any chance of producing a positive result. Sometimes your changes won't work and you'll end up losing a game you were expected to dominate, that's just how football goes though sometimes.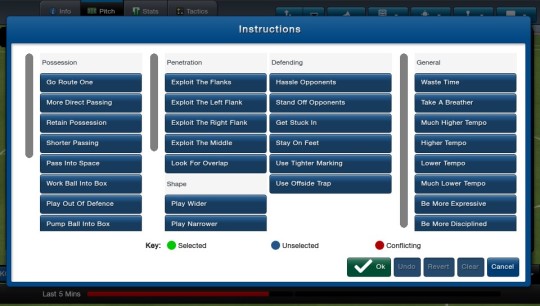 Just as with the PC game there are two modes of management; career mode and challenge mode. In career mode you take on management of a football club in a quest to take them as far as possible, whilst in challenge mode there are seven different situations that you can take control of, such as guiding a stranded team to safety, managing a team to success with a core of young talent, or attempting to save a club in financial peril by significantly reducing their expenditures whilst still remaining competitive. For most the main fun of the game will be in the career mode, sometimes you just want to do something a little different though and for those times the challenge mode options can provide a fun test of your Football Manager capabilities.
Although Football Manager Classic 2014 for the PS Vita is for all intents and purposes the same game as its PC counterpart, with the player history tab on the Vita you will find that the career achievements and injury history tabs have been removed. Career stats remain, but you won't find details of individual awards and team successes that each player has achieved, and you also won't be able to check for indications that a player may be injury prone as you'll not be able to see what injuries players have suffered in the past and how frequently they have occurred/reoccurred. If you're only playing the game on the Vita then it's a small difference that you can live with and one that probably won't have too much bearing on how you play the game, if taking advantage of the cross-save feature though then it's worth noting that once you've played the game on your Vita and taken the game back over to your PC, the career achievements and injury history data for each player will have been wiped and this information will no longer be viewable even when playing your save on PC. Some people might not particularly check either of these tabs anyway and this will therefore be of no real significance, for others though this may well be an area of concern.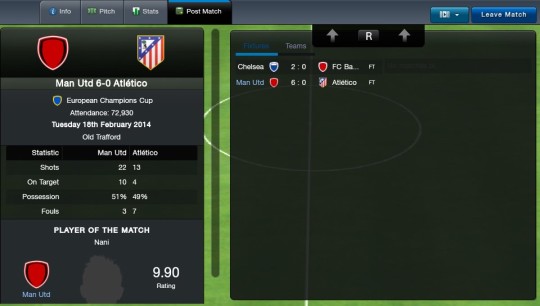 When Football Manager Classic 2014 was first announced and months went by without an official release date being set, I wasn't entirely sure this game was ever going to see the light of day. It seemed inconceivable that such a resource-intensive title could possibly run on a handheld device, Football Manager Classic 2014 has now seen its release on the PS Vita though and it was indeed possible to fit this game within a 5 inch touch-screen. Some of the controls may seem a little clunky and the game may not be perfect, Football Manager Classic 2014 is definitely an impressive specimen though and Sports Interactive have really done themselves proud in making this game possible.
Hopefully this won't be the last that we see of Football Manager Classic for the PS Vita, and if there are further games in the series in the future then hopefully both games will be released simultaneously and there can be some sort of bundle deal incentive for those that wish to play the game on both PC and PS Vita.