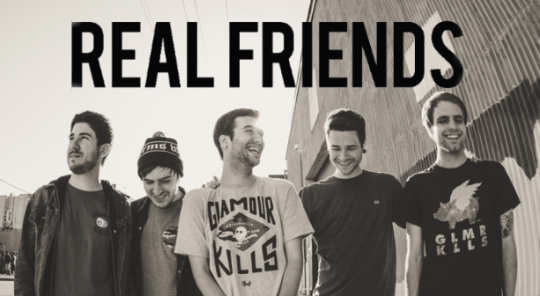 Chicago based pop-punk band Real Friends have officially signed a deal with Fearless Records and have released the following statement above the decision:
We are beyond stoked to be signing with Fearless Records. We were hesitant with signing to a record label in general, but with Fearless it was different. They made it feel more like a family. We have always held family close to our hearts. We are proud to say we are now part of the Fearless Records family.
The band are currently in the studio in Chicago working on a new album for release in summer 2014, and will head into 2014 with a North American spring tour starting in March in support of The Wonder Years, alongside Defeater, Citizen, and Modern Baseball.
The following is a full list of the 32 tour dates that the bands are set to play in the US this spring:
3.8 – Cleveland, OH @ The Agora Ballroom
3.9 – Pontiac, MI @ The Crofoot
3.11 – Chicago, IL @ House of Blues – Chicago
3.12 – Burnsville, MN @ The Garage
3.14 – Moorread, MN @ Gio's Grill and Bar
3.16 – Calgary, AB @ The Den
3.17 – Edmunton, AB @ The Starlite Room
3.19 – Seattle, WA @ El Corazon
3.20 – Portland, OR @ Hawthorne Theatre
3.22 – Oakland, CA @ Oakland Metro
3.23 – Hollywood, CA @ House of Blues
3.24 – Anaheim, CA @ House of Blues
3.25 – San Diego, CA @ SOMA
3.26 – Mesa, AZ @ The Nile Theatre
3.28 – Denver, CO @ Summit Music Hall
3.29 – Oklahoma City, OK @ Diamond Ballroom
3.30 – Dallas, TX @ The Door
3.31 – San Antonio, TX @ White Rabbit
4.1 – Houston, TX @ Warehouse Live
4.2 – New Orleans, LA @ House of Blues
4.4 – Tampa, FL @ The Orpheum
4.5 – Jacksonville, FL @ Roc Bar
4.6 – Ft Lauderdale, FL @ Culture Room
4.7 – Orlando, FL @ Beacham Theatre
4.9 – Atlanta, GA @ The Masquerade
4.10 – Greensboro, NC @ Greene Street
4.11 – Richmond, VA @ The National
4.12 – Philadelphia, PA @ Electric Factory
4.13 – Baltimore, MD @ Baltimore Soundstage
4.15 – Worcester, MA @ The Palladium
4.16 – Toronto, ON @ Phoenix Theatre
4.17 – New York, NY @ Best Buy Theatre