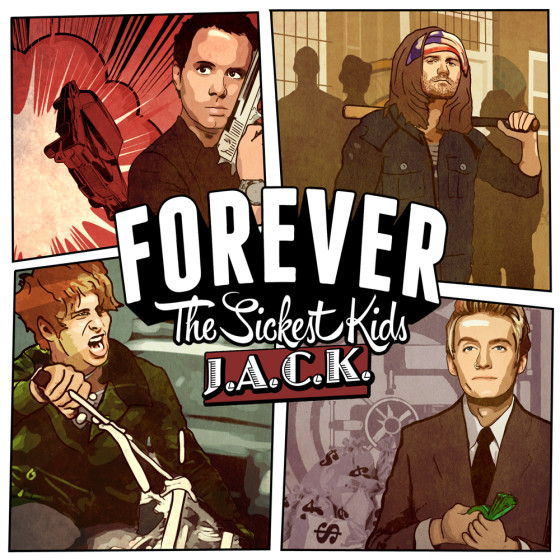 'J.A.C.K.' is the third studio album from Forever the Sickest Kids, the band's first album through Fearless Records and the first studio release since the departure of keyboardist Kent Garrison and guitarist Marc Stewart, both of whom left the band in 2011.
Forever the Sickest Kids is a band that has flattered to deceive a little in the past; some of the bands tracks have sounded absolutely huge and offered much potential for the future, often the band has seemed to play it a bit too safe, however, with inoffensive pop-punk songs that can at times be a little on the flat side. With the first three tracks of 'J.A.C.K.', Forever the Sickest Kids once again seems guilty of keeping things a little too simple with three tracks that fail to really get the ball rolling. 'Chin Up Kid', 'Keep Calm and Don't Let Me Go', and 'Nice to Meet You' are all reasonable pop-punk efforts, there's just no real wow factor however and the beginning of the album therefore leaves you wondering if the quality is ever going to improve. Thankfully, when track four comes around it appears to be a bit of a game changer as you're then greeted with 'Nikki', a track that was co-written with Patrick Stump of Fall Out Boy fame. With its swirling synth sounds and incredibly impressive chorus, 'Nikki' is the first track on the album that really begins to make you think that this latest album from Forever the Sickest Kids might stretch beyond mediocrity. With 'Ritalin (Born In America)' the band then seems to blend in a bit of a fun. vibe, something that they do pretty well in a track that continues the turnaround; it's a little bit different and shakes things up nicely with its blend of pop-punk and indie pop.
After the success of switching things up a bit with 'Ritalin (Born In America)', 'Kick It!' takes things back to the pop-punk formula, a bouncy little number that then leads nicely into next track 'Playing With Fire'. With a chorus that really gets lodged in your mind, 'Playing With Fire' is a track that could easily be an extremely successful single; it's accessible, infectious, and just a track that really gets you smiling when listening. If 'Ritalin (Born In America)' was a little bit different though, then your expectations are really thrown a curveball with the next track 'Count On Me (For Nothing)', a track that's like absolutely nothing else on the album. With backing vocals towards the end of the track that sound almost gospel, 'Count On Me (For Nothing)' is a track that listeners are either going to really love or really hate; it's so far removed from the rest of the album that it really does take you by surprise, and Forever the Sickest Kids fans will likely either see this as an impressive display of versatility or a step a little too far outside of the band's expected sound.
Next up is 'La La Lainey', an absolute slice of powerpop that's without doubt one of the most memorable songs on the album. 'La La Lainey' is such an uplifting piece of music to listen to, a superb song for the summer that'd definitely be a great track to listen to whilst the sun's shining down on you. Such is the quality of 'La La Lainey' though that when it comes to an end you're immediately disappointed, especially as 'My Friends Save Me' kicks in and suffers from the same disappointing generic nature that the beginning of the album suffers from. It's not a bad song as such, just a little on the bland side and therefore a bit of a shock to the system to go from the great energy of 'La La Lainey' to the relative flatness of 'My Friends Save Me'.
With final track 'Cross My Heart', Forever the Sickest Kids ensures that the album doesn't end on a sour note as another track is offered up that has plenty to appreciate about it. During the chorus there's an auto-tune effect on certain words that's a little off-putting, all in all it's definitely a solid effort from the band however, a track that rounds the album off nicely and ensures that the 'J.A.C.K.' album ends on a positive.
'J.A.C.K.' is another album from Forever the Sickest Kids where despite a number of impressive tracks, overall the album lacks consistency and falters a little too often with a number of extremely forgettable offerings. It's very much a hit and miss affair with the band probably disappointing as much as it pleases at times. Despite the negatives, there's enough here to suggest that Forever the Sickest Kids is a band more than capable of penning a fantastic pop-punk album in the future, and with studio album number four we may just see something rather special from the band. 'J.A.C.K.' is not a great pop-punk album, it does feature a number of very good tracks from Forever the Sickest Kids, however, and for that reason it's therefore an album that fans of pop-punk music should seek to listen to at least the once.
Rating

(3/5)