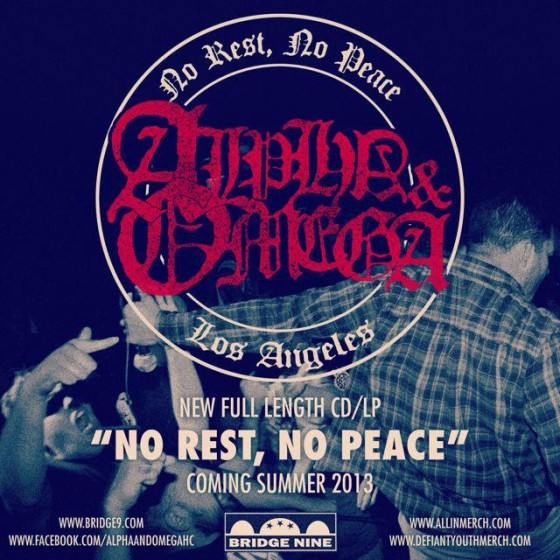 Bridge Nine Records' artist Alpha & Omega is on tour with Terror right now, and you'll currently find the bands playing a whole host of gigs and festivals across Europe.
In addition to touring with Terror, Alpha & Omega will also be hitting the UK in July, performing a number of shows in cities such as London, Glasgow, and Manchester.
Los Angeles based hardcore band Alpha & Omega will release a new album through Bridge Nine on July 23rd, 'No Rest, No Peace', the title track for which you can listen to here.
The following is a full list of the European tour dates that Alpha & Omega/Terror have planned this summer:
ALPHA & OMEGA + TERROR:
21.06. Clisson – Hellfest (France)
22.06. Trier – Summerblast Festival (Germany)
23.06. Schweinfurt – Alter Stattbahnhof (Germany)
25.06. Pécs – Rockmaraton (Hungary)
26.06. Pisek – Pod Carou (Czech Republic)
27.06. Montabaur – Mair1 Festival (Germany)
28.06. Roitzschjora – With Full Force Festival (Germany)
29.06. Leeds – Ghostfest (Great Britain)
30.06. Lisboa – Republica de Musica (Portugal)
01.07. Karlsruhe – Stadtmitte (Germany)
02.07. Lindau – Club Vaudeville (Germany)
04.07. Landgraaf – De Oefenbunker (Netherlands)
05.07. Sulingen – Reload Festival (Germany)
06.07. Salzburg – United People Fest @ Rockhouse (Austria)
07.07. Augsburg – Kantine (Germany)
ALPHA & OMEGA ONLY:
09.07. Canterbury, UK @ The Beer Cart Arms
10.07. Birmingham, UK @ The Rainbow
11.07. Leeds, UK @ THe Packhouse
12.07. Glasgow, UK @ Audio
13.07. Manchester, UK @ NQ Live
14.07. London UK @ The Black Heart