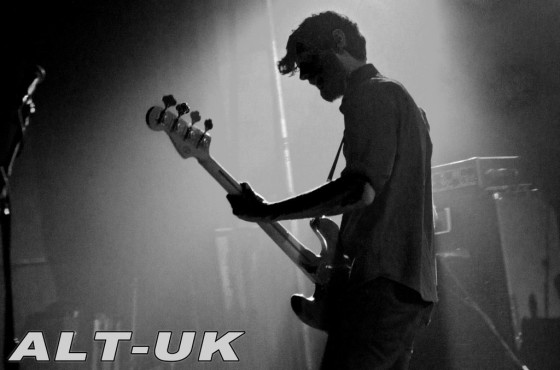 Remember those kids in school who used to walk into an exam grinning from ear to ear because they knew they were going to get every question right? Well that's the sort of quiet confidence that emanated from math-rock four-piece Tall Ships as they took to the stage at London's Scala earlier this month.
Despite being the last date of their UK tour, the band still managed to look fresh-faced and enthusiastic as they shuffled onto the stage, smiling shyly at the sea of eager faces in front of them. The crowd were buzzing after being treated to the psychedelic, synth-y sounds of Emperor Yes, and an energetic performance from the ever so slightly trippy Isla, who brought their immaculately styled moustaches, floaty clothes and vast array of instruments off of the stage and into the audience. It was a breath of fresh air, then, to see Tall Ships' frontman Ric Phethean emerge with just a guitar, a laptop, and a loop machine. No wacky clothes, no gimmicks, just raw talent.
With their guitars and dodgy haircuts, you'd be forgiven for thinking that Tall Ships are just another indie band. On the surface they're nothing special, but it soon becomes clear that these guys are full of surprises. The first surprise of the evening is their choice of opening track. The first single from Tall Ships' debut album 'Everything Touching' has received acclaim from the likes of NME, Punktastic and The Guardian, and has even made it onto the Radio 1 playlist. For most bands a huge crowd-pleaser like this would be the obvious choice to end their set with, but these guys aren't like most bands, so they launch straight into the catchy, grinding guitar riff of 'T=0'.
When it comes to live shows, the same old formula has been re-hashed time and time again, so it's refreshing to see a band like Tall Ships breaking out of that mould and doing things a little bit differently. Keeping their fans happy seems to be at the top of their agenda and that's exactly what they do, from the juddery, jangly 'Best Ever', to the pounding drum beats of 'Gallop', right through to their climatic encore in the form of 'Vessels'.





When the band last toured the UK, they consisted of only three members and were virtually unknown. Older fans will no doubt argue that the original line-up was better but there's no disputing the fact that, with the addition of keys, these four guys are making some amazing sounds now.
Many of these older, more hardcore fans were right down at the front of the crowd, belting out every single word with more passion than if they'd written the songs themselves. In contrast, there were also plenty of people who had maybe heard them played on the radio a couple of times, standing at the back of the venue, clutching a drink, smiling and nodding along to the odd song. Despite there being a very clear divide between fans, there wasn't a single person in the room that wasn't completely mesmerised by what was going on in front of them.
And when I say 'in front of them', I mean right in front of them. With no barriers and no wall of butch, high vis-clad security guards in front of the stage, the band were able to really engage with their fans and give a much more intimate performance. The front row gazed up in awe at Ric, whose soaring vocals, coupled with the complex array of noises made by the rest of the band, filled the entire room and captivated everyone within its walls. From start to finish, all eyes were on the band's shy, understated, yet quietly brilliant frontman.
If the crowd's reaction to their beautifully complex melodies, haunting vocals and polished live performance are anything to go by, then this certainly won't be the last we hear of Tall Ships. These guys are going to be seriously big, and commanding a room full of so many adoring fans just goes to show that they're more than ready to step up to the mark and take on the festivals they have lined up this summer, including The Great Escape festival in their hometown of Brighton. In fact, the likes of Reading and Leeds, the Isle of Wight festival and even Glastonbury are well within their reach… But for now, if they can make a room full of people smile and dance on a cold, wet Thursday night in King's Cross then they must be doing something right!
Review and Photography by Liz Murray