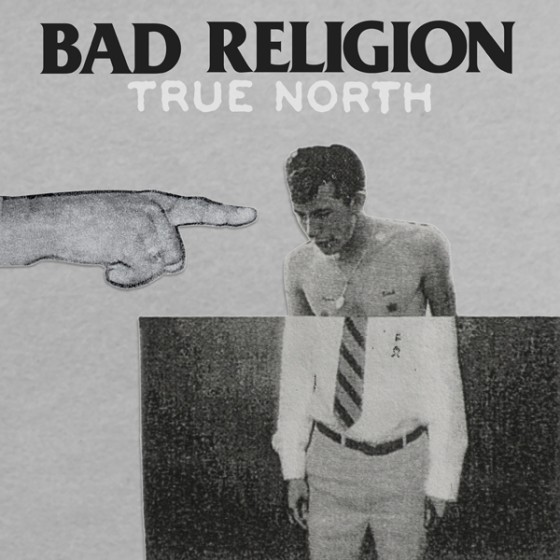 31 years since the band released their debut studio album and still they show no signs of losing momentum. '
True North
' is album number sixteen from
Bad Religion
, and once again here they've released an album that is absolutely packed full of quality.
Bad Religion
provide 16 excellent punk rock tracks for us here, complete with the intelligent lyricism and incredible catchiness that you'd expect from the band.
Title track 'True North' kicks the album off in fantastic style, and right from the word go here you know what to expect from this release. Instantly you have incredibly high expectations, and the band definitely doesn't let you down as they progress through the album, either. They slow things down a bit during the intro for second track 'Past is Dead', before long they shift the momentum back up in the track though and provide a showcase of the pulsating punk rock that you'd expect of the band. The band sound as venomous as ever here, the music hits you hard and never does it cease to impress as Bad Religion hit you with chugging riff after chugging riff, Gregg Graffin's vocals sounding as great as ever and Brett Gurewitz also impressing with his sublime backing vocal tone. Gurewitz even provides lead vocals on the track 'Dharma and the Bomb', one of the strongest tracks from the album. Jay Bentley's basslines resonate through the very heart of the album, and there is of course some supremely strong drum work on display here from Brooks Wackerman. Instrumentally the album is absolutely spot on, providing exactly what you'd expect of a Bad Religion record, and making you smile all the way.
For the most part Bad Religion maintain a rather fast paced and frenetic pace on the 'True North' studio album, 'Hello Cruel World' is a fine example of the success that Bad Religion can achieve when they opt for a slower paced, more melodic approach, however, and is perhaps one of my very favourite songs that Bad Religion has ever recorded. There's just something about this track that really strikes a chord with me, and since 'True North' was released in January I have found myself coming back to this one on many an occasion. 'Fuck You' was a fantastic lead single for Bad Religion to release from the album, and title track 'True North' was another good choice, I definitely wouldn't be at all surprised to see 'Hello Cruel World' released as a single at some point though, and it's a track that I for one would absolutely love to see a video for at some point in the not too distant future. Just like 2001's 'Sorrow' and 2004's 'Los Angeles is Burning' single's, there's just something really very soothing about the band's sound in 'Hello Cruel World', and whilst they may be better known for their harder hitting efforts, they can definitely still cut it when providing a more melodic approach to their music, and 'Hello Cruel World' is a Bad Religion track that I can see myself consistently coming back to for many years to come.
What I've always loved about Bad Religion is how the band has managed to remain relevant and interesting all throughout its career. Some bands seem to lose momentum and perhaps even interest at a certain point; cracks begin to appear and the band either falls short of the mark or ceases to exist altogether. 34 years on though and Bad Religion is still a band that is going strong, releasing music that is as well thought out and as powerfully put across as ever. Many of the band's members may be approaching/heading past 50, they still retain the same passion for making music that they always had though and definitely don't seem to be short of ideas when it comes to creating new music. The same intelligent lyrical content is still there, the passion is provided in abundance, and this is a band that still has an incredible amount of punk rock power.
If you've ever been a fan of the Bad Religion sound then 'True North' is most certainly an album that you should be looking to give a spin. This album perhaps contains some of the band's best ever material; fast, intelligent punk rock at its finest from the fantastic Californian six-piece that is Bad Religion.