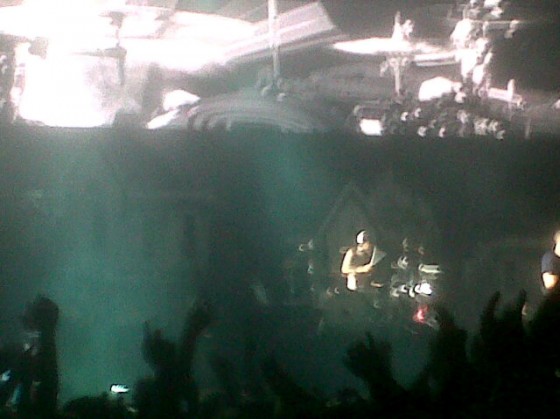 Up first was Four Year Strong, a band that I first became fully familiar with in 2007 when they released their 'Rise or Die Trying' album through I Surrender Records. It was actually through their cover of Blink-182′s 'Dumpweed' that I heard them for the very first time however, so it raised a smile for me to now be seeing them supporting the band they once covered. Whilst I've never been the biggest fan of Four Year Strong, the various times I've seen them here in the UK they've always put on a decent, energetic show, and this evening was no different. Being the first support, the band only had time to play 7 tracks in total, it was a well chosen set however and one that seemed to go down well with those in attendance. The majority of those in attendance were only really there to see one band, but Four Year Strong did a decent job nonetheless of warming the crowd and getting them ready for the next act to take to the stage, The All-American Rejects.
Launching straight into 'Dirty Little Secret', it was clear that The All-American Rejects' set was going to be a high energy affair with Tyson Ritter clearly delighted to be supporting Blink-182 at such an impressive venue in the English capital. Perhaps a little overexcited at times as he began insulting those in the box seats and branded a group of girls in bunny suits 'sluts', Tyson Ritter was nonetheless a very charismatic and entertaining frontman as he bounced his way around the stage. His banter with the crowd might not have gone down too well with some, personally I found him amusing however, his energy and enthusiasm on the stage was contagious, and all in all he made sure that there was never a dull moment with The All-American Rejects' set. All four of the band's albums were represented with the set, there was a good spread of the band's music both new and old, and whilst the main event was still yet to come; The All-American Rejects made sure that the evening continued to run smoothly. Closing track 'Gives You Hell' seemed to go down particularly well, as did taking things back a decade with 2002s 'Swing Swing'. All in all a top notch set from a band with four great album's under its belt.
So now it was time for the band that 20,000 people had all been patiently waiting for; Blink-182. Was the band going to be able to live up to expectation, or were we all to be left bitterly disappointed? I'm happy to reveal that Blink-182 put on an absolutely brilliant show. After the band went on hiatus in 2005, and last year's tour was put on hold for a year (as well as the band having to pull out of Bamboozle just prior to this UK tour), I'm sure there were many fans that wondered if we'd ever get another chance to see Blink-182 live in the UK, I know I certainly did; thankfully we have had another chance though and the band was able to put to bed our fears in its 20th year after first forming.
Opening with 'Feeling This', there was an instant burst of excitement from the crowd as Blink-182 got their show underway. Instantly we were taken back to 2003, and what a beautiful moment it was too. The All-American Rejects had already set a pretty high benchmark of intensity to live up to, Blink-182 more than matched it however as they crunched through tracks from all 6 of their albums. 'Carousel' was the soul representative from the band's 'Cheshire Cat' debut album, whilst 'Josie' and 'Dammit' were the only tracks on display from 'Dude Ranch', whilst the emphasis was more on the material from the band's newer albums however, it was good to see that the older albums weren't completely forgotten about and did in fact hold a special place in the set with 'Carousel' and 'Dammit' both being included in the encore.
There was particular emphasis on 2011s 'Neighborhoods' as 5 of the band's 23 tracks were lifted from this later album, a potential drawback for older fans not particularly familiar/fond of Blink 182′s newest material, having been a huge fan of the band's latest release I was more than happy to hear these tracks present in the set,  and felt that all 5 of the tracks came across well live. There were of course a few tracks from Blink's back-catalogue that I'd like to have seen in the set that weren't included, having listened to all of the band's albums heavily over the years however, Blink-182 probably would have had to have played all night to have fully satisfied my cravings.
All in all, Blink-182 put on an absolutely incredible show at the O2 Arena, and I for one am very much glad that I took up the opportunity to see the band there in 2012. Mark and Tom were funny, had good crowd interaction between tracks, and there's not a lot more that they could have done to have made the evening any better (besides play all of their albums in their entirety). Both of Travis Barker's drum solo's certainly impressed, and as one of my main musical inspirations growing up, it was brilliant to see him still tearing into his drumkit as ferociously as ever and no doubt inspiring the next generation of drummers. It may be 20 years since Blink-182 first formed, and they may all have other projects on the go now as well as being in Blink-182, but this is a band that is still going strong, and they're showing on this tour that six albums in and countless tours later; Blink-182 is still a band with an awful lot to give.
See you all again at the Brixton Academy next month!