Bowling For Soup Announce 30th UK Tour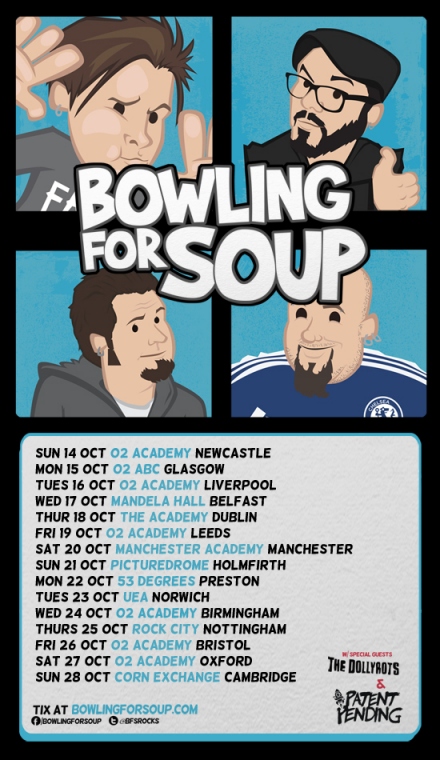 Bowling For Soup will be hitting the UK in October to embark upon their 30th UK tour to date.
The band will be supported by The Dollyrots and Patent Pending, however contrary to usual touring trends where London is included whilst other towns and cities are omitted from the schedule, Bowling For Soup will not actually be hitting London on this tour due to their playing the Vans Warped Tour at Alexandra Palace on November 10th. So if you live in/around London and you're wanting to see Bowling For Soup in 2012, this will be the place to see them.
The following is a full list of the dates that Bowling For Soup is all set to play this October:
14 Oct – O2 Academy – Newcastle
15 Oct – O2 ABC – Glasgow
16 Oct – O2 Academy – Liverpool
17 Oct – Mandella Hall – Belfast
18 Oct – The Academy – Dublin
19 Oct – O2 Academy – Leeds
20 Oct – Manchester Academy – Manchester
21 Oct – Picturedrome – Holmfirth
22 Oct – 53 Degrees – Preston
23 Oct – UEA – Norwich
24 Oct – O2 Academy – Birmingham
25 Oct – Rock City – Nottingham
26 Oct – O2 Academy – Bristol
27 Oct – O2 Academy – Oxford
28 Oct – Corn Exchange – Cambridge