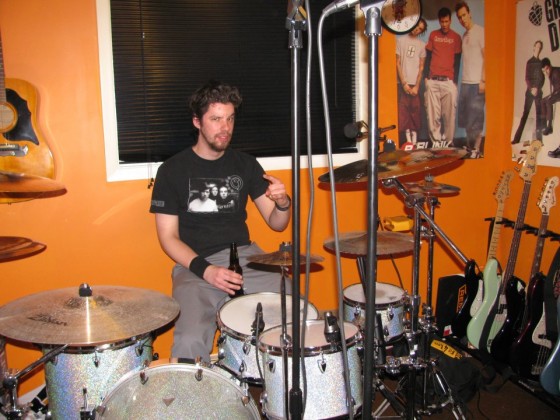 Kurt Borutski is a 23 year-old Canadian musician that has made quite a name for himself on YouTube where he has built up over 2400 subscribers and his videos have been viewed more than 732,000 times.
Kurt operates under the Youtube alias KurtsCovers, and predominantly posts Blink-182 covers (and other Blink-182 side projects such as Boxcar Racer, Angels & Airwaves, and +44). Kurt has also covered tracks by several other artists (including a number of Green Day covers), however his predominant focus has been on the work of the much loved pop-punk trio that is Mark, Tom, and Travis.
Kurt has been posting videos on his YouTube channel since April 2011, and in little over a year has already built up to 238 videos, posting videos frequently and keeping in touch with his fans through his Facebook page, and also through interaction with his viewers by commenting on the YouTube platform itself in response to those that leave him comments.
Having previously focused on covering single tracks on bass, guitar, and drums, Kurt has recently taken to uploading full album covers of Blink 182′s music, and has so far posted full album bass covers of 'Take Off Your Pants and Jacket', 'Neighborhoods', 'Cheshire Cat', 'Enema of the State', 'Self-Titled', and most recently the 'Mark, Tom, and Travis Show' live album.
A prolific poster of cover videos on Youtube,  Kurt Borutski is not just another lifeless cover artist; Kurt injects a great deal of energy and enthusiasm with his cover videos, and you can tell that he's a prolific fan of the artist's that he covers (and not just because he seems to own every Blink-182 signature model instrument known to man).
Kurt Borutski is most definitely a very impressive musician, and particularly if you're a Blink-182 fan, it really is worth checking out his videos on his Youtube channel. There are a lot of people out there that cover the music of Blink-182, there are few that can put their personality and enthusiasm for creating music across quite like Kurt can however, and whenever Kurt adds a new cover to his channel, even if you're not the biggest fan in the world of the work that he's covering, you can rest assured that Kurt Borutski will still make it well worth watching.