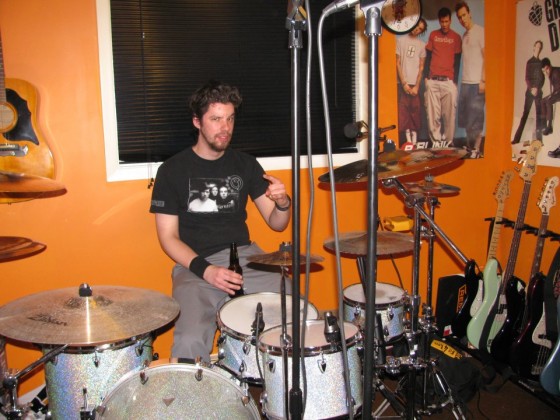 Kurt Borutski is a 23 year-old Canadian musician that has made quite a name for himself on YouTube where he has built up over 2400 subscribers and his videos have been viewed more than 732,000 times.
Kurt operates under the Youtube alias KurtsCovers, and predominantly posts Blink-182 covers (and other Blink-182 side projects such as Boxcar Racer, Angels & Airwaves, and +44). Kurt has also covered tracks by several other artists (including a number of Green Day covers), however his predominant focus has been on the work of the much loved pop-punk trio that is Mark, Tom, and Travis.
Kurt has been posting videos on his YouTube channel since April 2011, and in little over a year has already built up to 238 videos, posting videos frequently and keeping in touch with his fans through his Facebook page, and also through interaction with his viewers by commenting on the YouTube platform itself in response to those that leave him comments.
Having previously focused on covering single tracks on bass, guitar, and drums, Kurt has recently taken to uploading full album covers of Blink 182′s music, and has so far posted full album bass covers of 'Take Off Your Pants and Jacket', 'Neighborhoods', 'Cheshire Cat', 'Enema of the State', 'Self-Titled', and most recently the 'Mark, Tom, and Travis Show' live album.
A prolific poster of cover videos on Youtube,  Kurt Borutski is not just another lifeless cover artist; Kurt injects a great deal of energy and enthusiasm with his cover videos, and you can tell that he's a prolific fan of the artist's that he covers (and not just because he seems to own every Blink-182 signature model instrument known to man).
Kurt Borutski is most definitely a very impressive musician, and particularly if you're a Blink-182 fan, it really is worth checking out his videos on his Youtube channel. There are a lot of people out there that cover the music of Blink-182, there are few that can put their personality and enthusiasm for creating music across quite like Kurt can however, and whenever Kurt adds a new cover to his channel, even if you're not the biggest fan in the world of the work that he's covering, you can rest assured that Kurt Borutski will still make it well worth watching.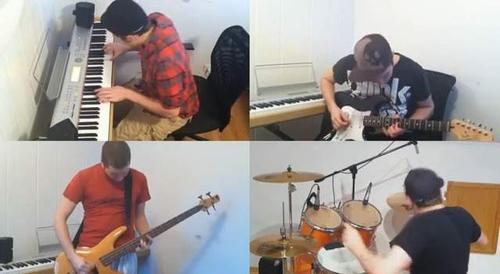 KeezyKabeezy is a one-man pop-punk phenomenon from Chicago, Illinois. KeezyKabeezy first shot to fame in August 2011 when he recorded an alternate version of 'Up All Night' from the Blink-182 album 'Neighborhoods', recorded from the perspective of how the track might have sounded had it been released in 1999. KeezyKabeezy has to date covered three Blink-182 songs, a Jimmy Eat World one, and has now given us a taste of what we can expect from him as an artist in his own right.
'Power Lines' is an impressive taste of what KeezyKabeezy is capable of as an artist; it's an upbeat pop-punk song, and if you're a fan of late 90s/early 2000s pop-punk from the likes of Blink-182 and New Found Glory, then the chances are that you'll enjoy what you hear here. KeezyKabeezy's vocals are not too dissimilar at all to those of Blink-182′s own Mark Hoppus, and his basslines hold a clear Hoppus influence also. The drumbeat here is a pretty simplistic one, certainly works well within the context of the track though, and the simplicity of the drumbeat here is by no means a drawback. 'Power Lines' is an easily accessible track, very catchy, and if it was released by one of pop-punk's heavy hitters then there's every chance that it'd be a huge success.
When listening to KeezyKabeezy's 'Power Lines' it is incredibly easy to forget that this is just a one man project; there's a great quality to the music here that belies the fact that this is the work of just one man. KeezyKabeezy is an artist with an incredible talent for creating catchy pop-punk, and on the basis of this original track and the cover tracks that have come before, I for one really can't wait to hear what else KeezyKabeezy has to offer in the future and will most definitely be keeping an eye on his YouTube channel for further updates.
If you'd like to see where the magic happens for KeezyKabeezy then you can check out his home recording set-up here. When you see the conditions that this man is working under and the equipment that he's working with, his achievements as an artist really do appear all the more impressive. 
Robin Gibb, co-founder of the Bee Gees, has passed away aged 62. Robin Gibb had been battling cancer and intestinal surgery for some time,  and it has sadly now been announced that Gibb is no longer with us.
"Rest in peace, Robin Gibb. Thanks for the music" announced Sony Music through Twitter, and I'm sure that this is a sentiment that is reciprocated by many as the world comes to terms with the loss of the great Bee Gees musician that was Robin Gibb.
Our thoughts are with Robin Gibb's friends and family at what must be an extremely difficult time for them.

Official video for the mothbites track 'Howling Forever', featuring Thom Denson. mothbites' self-titled EP is all set for release on June 4th through Tangled Talk Records.