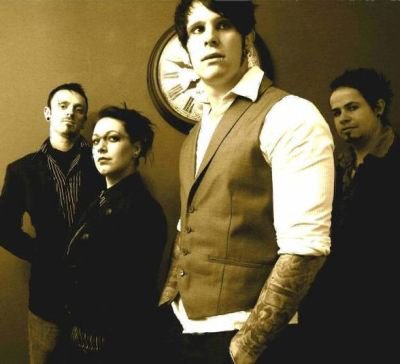 This Hull-based lot have some very credible influences and contacts – not only can they count Paradise Lost's guitarist Greg Mackintosh as the producer of their EPs and their forthcoming second album 'Reward For Obedience', but throughout their long history the four-piece (made up of Danny Barr on vocals, Lu Dixon on bass, Lee Dixon on guitar and Phil Owst on keyboards), have maintained a high profile  by touring nationally and internationally, securing a record deal with independant label Casket Music in the process.
In their eight years together the core members of the band have battled many line-up changes and as a result the music has steadily evolved from an intense crossover of industrial sounds into a more gritty and raw electro-metal assault that has won them fans and media attention from right across the alternative spectrum.
Embedded deep within their debut album (2007′s 'Cross Contamination') are classic hard-hitting goth influences like Gary Numan and the aforementioned Paradise Lost (see 'Can't Carry On') alongside the more contemporary work of cult industrialists Zeromancer and the keyboard-driven decadence of the Deathstars (check out 'Ghost In The Machine'). For their second album though, the band have stepped things up to a whole new level embracing heavier and more full-throttle metal influences like Killswitch Engage and Spineshank (the latter's new material shows a progression away from industrial in to more metalcore territory).
Despite their brutal new approach to live performance and sonic delivery, thematically the group look to discuss personal relationships and emotions to an unusual depth, with the central aim being to appeal to every person no matter what age, or situation.
It is my opinion readers, that Systemyk are worth your attention because their music is affecting, unapologetically raw and totally direct. It does also help that they are one of the hardest working acts on Hull's scene having played relentlessly throughout Yorkshire (they've also completed an tour of the Czech Republic most recently).
Indeed, their drive and determination is such that they have secured a dedicated and loyal fanbase and despite the gap between albums, over the last year they have been working hard to promote the new material on large and intimate stages alike.
The band's second album 'Reward For Obedience' will be out later this year.