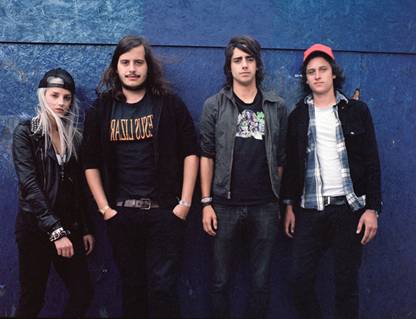 Japanese Voyeurs will be touring the UK throughout July, including a number of shows with the legendary Guns N Roses guitarist Slash.
The following is a full list of the dates that the band will be playing:
July 08 Sonisphere, Knebworth
July 12 London Hoxton Bar & Kitchen (Album launch show!)
July 20 Birmingham Academy w/ SLASH
July 21 Manchester Apollo  w/ SLASH
July 24 Stoke Victoria Hall  w/ SLASH
July 25 Leeds Academy w/ SLASH

Having been following Simple Plan since the band's 2002 debut 'No Pads, No Helmets…Just Balls', I was extremely impressed when I first heard the band's 'Jet Lag' single which features guest vocals from Natasha Bedingfield. There's a very big sound about this single, Natasha Bedingfield's vocals sit well in the song, but for me it is Simple Plan's own Pierre Bouvier that really steals the show here. Bouvier's vocals really do pack a mighty punch with this single, and as has always been the case with the music of Simple Plan, it is he that makes 'Jet Lag' so special. Instrumentally the music most certainly has much to offer, vocally though the sound is absolutely sensational here.
'Jet Lag' comes complete with an incredibly punchy chorus that we've come to expect from Simple Plan over the years; after only a couple of listens you find yourself really singing along to the song, already knowing absolutely every word. Simple Plan's 'Jet Lag' sounds like it was 100% made for the top 40, it sounds like a summer anthem, and it's not at all surprising that the single has already enjoyed success in several countries around the world.
When the band released its self-titled album back in 2008 there were several tracks that I found myself unable to stop listening to, 'Jet Lag' has had the very same effect on me and is a track that I can see myself listening to heavily for many months to come.
As a big fan of pop punk I've always had quite a soft spot for Simple Plan, more often than not their singles really seem to hit the spot, and this is most certainly the case with 'Jet Lag'. If you're a fan of pop punk or have ever heard and liked a Simple Plan track in the past then I'd most definitely recommend listening to 'Jet Lag' as this is not a track that is likely to leave you disappointed.

Set Your Goals drummer Mikey Ambrose demonstrates how the song 'Product of the 80s' should be played, a track taken from the band's 'Burning at Both Ends' studio album.

The official video for the Zebrahead track 'Ricky Bobby', taken from the band's ninth studio album 'Get Nice!'.

'Girls Like You' is an interesting track that starts off slowly and builds brightly. There's a real pumping Pulp feel about the music here as the track hits its stride; it's a really impressive piece of music from the band featured in the BBC's Sound of 2011.
There's an MGMT meets alternative rock feel about the sound here, the band clearly has an electronic edge about it, but it's also quite obvious that The Naked and Famous is approaching its music from more of a rock than electronic angle.
With its powerful chorus and extreme catchiness, 'Girls Like You' follows on well from 'Young Blood' and 'Punching in a Dream' and should see the band secure another successful single release.
It's not hard to tell why the BBC has this band down as one of the most promising new artists of 2011, and if you're a fan of indie/alternative rock music then The Naked and Famous' 'Girls Like You' is most definitely a track that you should take the time to listen to.

Official video for The Reserve' track 'Rewind'. The Reserve is a Newport based pop-rock four-piece currently signed to I Am Mighty Records.
The Reserve will release their debut EP 'We're Almost There' through the label in September.

Having been extremely impressed with We Are The Ocean's 'Cutting Our Teeth' album last year, I have to say that I was quite surprised when I first heard the band's 'Runaway' single. There's not a screamed vocal in sight here, and what we have instead is a dual sung vocal approach from Dan Brown and Liam Cromby.
Whilst 'Runaway' is entirely different from what I was expecting, this certainly doesn't mean that I'm disappointed with what the band has to offer here; 'Runaway' is an incredibly catchy track, and We Are The Ocean are as impressive as ever here. Just as with the screamed and softly sung out vocal contrast, Dan and Liam's difference in vocals still works brilliantly here, with Dan's more gravelly vocals combining superbly with Liam's more sweet and smooth approach.
If you're not a fan of screamed vocals and were put off We Are The Ocean in the past as a result of this, definitely give 'Runaway' a chance as you may just be impressed with what you here. By the same token, if you're a fan of the band's harder hitting vocal approach, don't be put off by the band's decision to slow things down a little here as 'Runaway' is a track that really does have a lot to offer.
Instrumentally as well as vocally 'Runaway' pushes all the right buttons in my opinion, providing for a sublimely satisfying overall listening experience.
Be sure to give We Are The Ocean's 'Runaway' a listen and you may just find yourself reaching for the repeat button on more than one occasion.
Label: Hassle Records
Release Date: July 18th 2011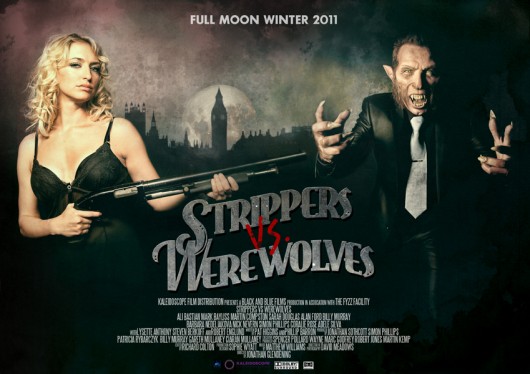 After a five week shoot in Croydon, Strippers Vs Werewolves is now all finished and awaiting its winter release.
Here is the latest poster for the film, featuring former Hollyoaks and The Bill actress Ali Bastian, and Spandau Ballet star and former Eastenders actor Martin Kemp.
Strippers Vs Werewolves has an all-star cast including Adele Silva, Billy Murray, Barbara Nedeljekova, Ali Bastian, Lucy Pinder, Martin Compston, Robert Englund, Sarah Douglas and Alan Ford.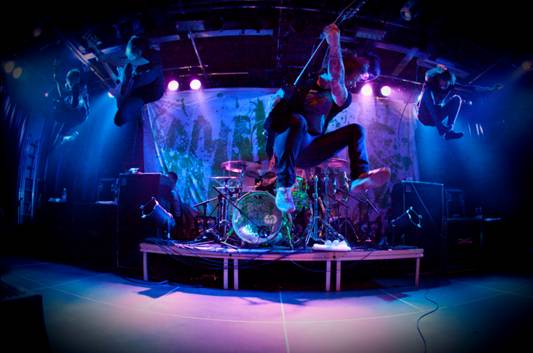 Bring Me The Horizon will finish the year with style, heading out on tour in November/December as special guests on Machine Head's European tour.
Following on from the tour, Bring Me The Horizon will head back to Sheffield in order to begin work on the follow-up to 2010s 'There Is A Hell, Believe Me I've Seen It, There Is A Heaven Let's Keep It A Secret'.
In addition to Bring Me The Horizon and Machine Head, Devil Driver and Darkest Hour will also be performing on the tour, and you'll be able to catch the four band's at the following tour dates:
02 Nov    Sentrum,  Oslo    NORWAY http://www.billettservice.no/
03 Nov    Arenan,  Stockholm    SWEDEN http://www.ticnet.se/
05 Nov    Sorsapuisto-Sali,  Tampere     FINLAND http://www.tiketti.fi/
06 Nov    Circus,  Helsinki    FINLAND http://www.tiketti.fi/
08 Nov    KB Halle,  Copenhagen    DENMARK http://www.billetnet.dk/
09 Nov    Grosse Freiheit 36,  Hamburg    GERMANY http://www.eventim.de/
10 Nov    Alter Schlachthof,  Dresden    GERMANY http://www.eventim.de/
12 Nov    Gasometer,  Vienna    AUSTRIA http://www.oeticket.com/de/
13 Nov    Alcatraz,  Milan    ITALY http://www.ticketone.it/
17 Nov    Coliseum,  Lisbon    PORTUGAL http://www.ticketline.pt/
18 Nov    Coliseum,  Oporto    PORTUGAL http://www.ticketline.pt/
21 Nov    Volkshaus,  Zurich    SWITZERLAND http://www.ticketcorner.ch/
23 Nov    Zenith,  Paris    FRANCE http://www.avosbillets.com/
24 Nov    Hugenottenhalle,  Neu-Isenburg    GERMANY http://www.eventim.de/
25 Nov    Tonhalle,  Munich    GERMANY http://www.eventim.de/
26 Nov    Arena,  Ludwigsbury    GERMANY http://www.eventim.de/
28 Nov    Klokgebouw,  Eindhoven    HOLLAND
29 Nov    Forest,  Brussels    BELGIUM http://www.proximusgoformusic.be/
30 Nov    Turbinenhalle,  Oberhausen    GERMANY http://www.eventim.de/
03 Dec    Wembley Arena,  London     UK http://www.livenation.co.uk/
04 Dec    NIA,  Birmingham    UK http://www.livenation.co.uk/
05 Dec    SECC,  Glasgow    UK http://www.livenation.co.uk/
06 Dec    Manchester Central,  Manchester    UK http://www.livenation.co.uk/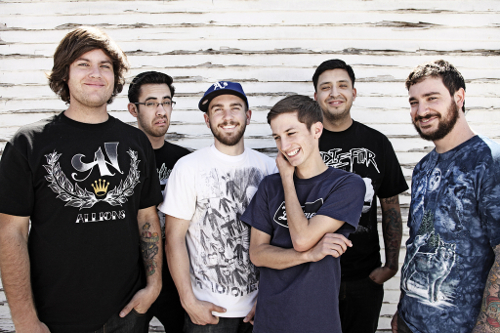 New Set Your Goals album 'Burning At Both Ends' is currently available to stream on Facebook, with the band ready and willing to donate to the Keep A Breast Foundation if 100,000 people stream the album.
If 100,000 people stream the release then the band will donate $1 for every copy of the 'Burning At Both Ends' album sold at Hot Topic during the first week of its release. If 200,000 people stream the album then the band will raise this donation to $2.
'Burning At Both Ends' is all set for release through Epitaph Records on June 27th and consists of a total of 13 tracks. 'Burning At Both Ends' is the follow up to Set Your Goals' 2009 Epitaph release 'This Will Be the Death of Us'.
Head over to Facebook right now and stream the album to help donate to a very worthy cause.