You Me At Six is all set to release its second studio album 'Hold Me Down' in 2010 and a video has now been released for first single 'Underdog'.
'Underdog' is due for release on January 11th, and if you liked what you heard with the 'Take Off Your Colours' album then there's a good chance that you're going to enjoy 'Underdog' also. The band has once again been able to put to record an absolutely incredible chorus, and if this single is anything to go by then 2010 should be another big year for this brilliant band from Surrey.
The video can be seen right now over at YouTube, and if you head on over to the You Me At Six webstore then you can pre-order it now from a number of different online retailers.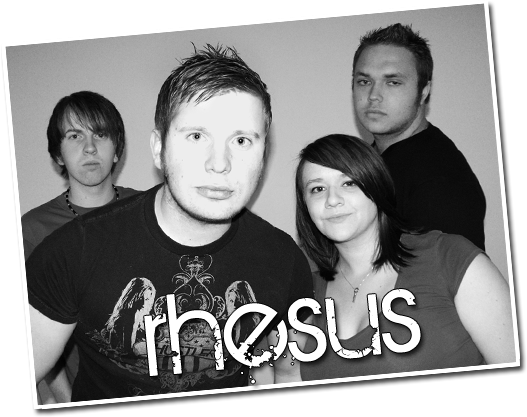 UK based pop rock band Rhesus is currently up for investment at Slicethepie.com, and is well on the way to achieving its goal of reaching £15,000. With close to £4,000 raised, Rhesus looks as though it will be the next band to secure investment through Slicethepie, and you can currently invest in the band's future at the website.
If you're not already familiar with Slicethepie; Slicethepie is a website which rewards you for reviewing music by paying you in cash/vouchers. Once you have £5.00 cash in your account from reviewing you can request a withdrawal to your Paypal account which is generally then carried out the next working day, or you can choose to invest in one or more of the artist's up for finance. Vouchers can also be used to invest in artists up for finance on the website, and can result in a long-term monetary return as each £1 investment will provide you with one contract in your chosen artist. More information about what Slicethepie is and how it works can be found here.
At the time of writing, Rhesus is currently the artist with the most investment achieved, Australian artist Jessica Paige is not far behind however and is another rising talent that you should definitely take the time to listen to.
Alt-UK is backing Rhesus to be the next financed artist at Slicethepie, and having thoroughly enjoyed the three tracks available through the website we will definitely be looking forward to hearing the band's album when it's recorded and released.
Good luck to all artists currently up for finance at Slicethepie, congratulations to Azrock & Pogo for reaching £15,000 the other week, and definitely do consider investing in Rhesus as this is a band that undoubtedly deserves it.
The following is a video of Rhesus performing an acoustic version of the track 'Morals for Money':