The official video for the Sparks The Rescue single 'We Love Like Vampires', an amusing nod towards the vampire obsession that has rocked the world thanks to Stephenie Meyer's Twilight series. 'We Love Like Vampires' can be found on the band's 2009 re-release of the 'Eyes to the Sun' studio album.
The official video for the We Are The Ocean single 'Look Alive', a track taken from the band's 'Cutting Our Teeth' studio album which is all set for release on January 25th 2010.
Label: Hassle Records
Release Date: November 16th 2009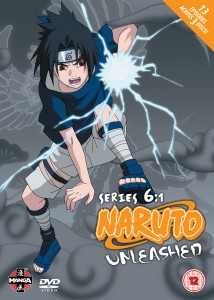 Beginning where Series 5 left off, Naruto Unleashed Series 6 kicks off in great style as the fight between Naruto and Sasuke concludes. It's an exciting start to the series as we watch it all unfold, and although Volume 1 also comes complete with a few filler episodes; overall this is addictive viewing and watching Naruto Unleashed episodes 131 through 143 is most definitely highly recommended.
If you're a Naruto fan then there's plenty to keep you entertained here, with Volume 1 beginning and ending on a high, leaving you with a thirst for more. Once you finish watching episode 143 you immediately want to see what happens in episode 144, sadly this is where the DVD ends though and if you do wish to watch what happens next then you'll just have to look to Naruto Unleashed Series 6: Volume 2.
Naruto Unleashed Series 6: Volume 1 provides the option to watch the episodes dubbed in English or spoken in Japanese with English subtitles, and whichever way you choose to watch the DVD then it's sure to impress. Naruto himself is as entertaining as ever here in these 13 episodes, and some of the action that you get to watch here really is fantastic.
For Naruto fans Naruto Unleashed Series 6: Volume 1 is essential viewing, and with the boxset currently available from Amazon for £15.88 (or the complete series can be bought for £29.98), for the entertainment provided it is most certainly well worth the money, and this really is one to put on your Christmas list if you don't already own it.
The official music video for the Gay For Johnny Depp track 'Hey Fucked Up! (Punk Rock Can't Exist In Countries With Good Social Services)', track 21 from the band's upcoming 'Manthology: A Tireless Exercise In Narcissism' album release.
An interview with the London based Irish four-piece Black Soul Strangers. The band is all set to release its debut album 'Animate' in 2010, and can here be heard talking about subjects such as gigging, crowd response, and battling with nerves.
This video was shot in May 2009 as the band prepared for a show at Camden Proud Galleries.


The official video for the A Skylit Drive single 'Those Cannons Could Sink A Ship', a track taken from the band's 'Adelphia' studio album.
Label: Hassle Records

N-Dubz may not be a group to everyone's tastes, but they've certainly come out with some very catchy singles in recent times. 'I Need You' is the latest single to be released by the band, featuring Facebook focused lyrics, an incredibly catchy chorus, and a really rather bouncy beat also.
'I Need You' is an absolute fun-packed single from N-Dubz, and whilst listening to this one it really is difficult not to start singing along. N-Dubz once again demonstrates here a great knack for penning a perfect pop song, and this group certainly seems to know what it's doing when it comes to making the music as infectious as possible.
'I Need You' is the latest N-Dubz single to have achieved chart success, and it's surely only a matter of time before this group is back again with another.
Label: All Around The World
Release Date: November 9th 2009
Alberta Cross performing 'Taking Control' live at Brixton Academy on June 26th 2009. 'Taking Control' is to be released as a single on November 23rd through Ark Recordings.

Jamie Archer's X-Factor dream came to an end this week as he lost out to Lloyd Daniels on the public vote. With Simon and Dannii opting to send Lloyd home, and Cheryl and Louie pushing for a Jamie Afro exit, the decision of who was to go therefore went down to the public vote and it was ultimately Jamie Archer that lost his place in the competition.
Neither act gave a particularly spectacular performance on the live show, and it was probably right that it was these two in the bottom, Lloyd has been riding his luck for some time however and is fortunate to still be in with a chance of winning the competition.
Jamie's stint on the X-Factor is now over, and we'll now just have to wait and see if he was right when he stated his belief that "it's not the end, it's the beginning". Simon Cowell has faith in Jamie Archer's ability to succeed, and it'll be interesting to see whether or not this is indeed the last we ever hear of Jamie Archer.

Simon Cowell prompted great anger across the land on Sunday night when he took the elimination decision to the public vote. With Lucie Jones up against John and Edward Grimes, Louie voted to save his own act by sending home Lucie, Cheryl and Dannii meanwhile both opted to send home the twins. With the final vote once again falling to Simon, Simon Cowell for the second week running decided to put it to the public, reasoning that he didn't think either act could win so out of curiosity he would like to see which act the public would most like to see back. Lucie Jones it was discovered received the least public votes, John and Edward meanwhile will be back to sing again in the competition next Saturday.
With Simon Cowell having criticised John and Edward's lack of vocal talent each week leading up to this point, many therefore expected him to take this opportunity to get rid of the twins; the fact that he didn't wasn't exactly met with the most positive reaction in the world. Frustrations were sounded on Twitter, Facebook groups were formed, and an X-Factor boycott was threatened, all because Simon let the public choose which act got to remain in the competition.
Did the right act of the two of them leave? Arguably, yes. Lucie Jones was the artist that received the least public support, definitely didn't give the final performance her all, and just didn't have the same life and energy that John and Edward did. You can tell that John and Edward really want this; they're not the greatest singers in the world and they never will be, they can never be accused of not giving it their all though, and it's good to see real passion triumphing over people that just seem content to coast through on their looks without putting in any real effort.
Lloyd got a break from being in the bottom two this week, next week though his time could well be up.